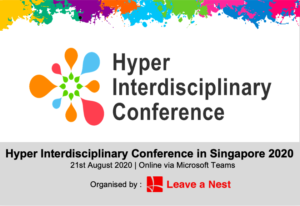 Leave a Nest is pleased to announce the first online Hyper Interdisciplinary Conference in Singapore 2020 which will be happening as the following details:
Date: 21 August 2020 (Friday)
Time: 13:00hrs – 17:00hrs Singapore time
Venue: Via Microsoft Teams
Register here to receive a link to the live stream event!
Full schedule:
Register here to receive a link to the live stream event!
Check out the presenters here:
Dr. Hooshmand Palany, Chairman, Healthcare Working Group ASEAN-Business Advisory Council
Dr. Tan Mei Hua, Deputy Chief Technology Officer, DeNova Sciences
Dr. Viknish Krishnan-Kutty, Founder & CEO, Cellivate Technologies
Dr. George M Jacobs, General Manager, HealthPartners.sg
Dr. Ser Wah Oh, Founder & CEO, Whizpace Pte Ltd
Mr. Gabriel Yee, Managing Director, MyrLabs
Skin Health for Southeast Asians
Dr. Reid Lim, Founder, MEDGIC
Dr. Maurice van Steensel, Professor of Dermatology and Skin Biology at Lee Kong Chian School of Medicine (NTU), Skin Director at Skin Research Institute of Singapore (A*STAR)
Dr. Ruenn Chai Lai, Research Scientist at Institute of Medical Biology (A*STAR), Consultant at Vesiderm
Moderator: Ms. Hui Ling Chan, Assistant Manager in Research Development Division, Leave a Nest Singapore
Nutraceutical Solution for Healthier Living
Dr. Natthaporn Takpho, Researcher, Mitsui Chemicals Singapore R&D Centre
Prof. William Chen, Michael Fam Chair Professor and Director of Food Science & Technology (NTU)
Dr. Shabbir M Moochhala, Innovation Director, Fifth Sense
Moderator: Mr. Elias Tan, Vice President, Innovate360
Developing Smart Cities in Southeast Asia
Ms. Monica Megawati, Research Officer Mitsui Chemicals Singapore R&D Centre Pte. Ltd.
Mr. Ryan Jin Zhanhe, Lead (Smart Cities and Future Mobility), EcoLabs Centre of Innovation for Energy, Energy Research Institute @ Nanyang Technological University, Singapore ([email protected])
Mr. Lionel Sinai-Sinelnikoff, Founder & Chief Executive Officer, Ascent
Moderator: Mr. Kelvin Ong, CEO, Focustech Ventures Pte. Ltd.
It will be an exciting program with diverse business ideas and solutions to tackle the world challenge. Come and join us on the day!
Register here to receive a link to the live stream event!
For any inquiries about Hyper Interdisciplinary Conference in Singapore 2020, please contact: Hui Ling at [email protected]