Panel 4 is themed "Beyond the Stars: Unleashing the Potential of Space Technology for a Thriving Planet." In this session, we will be discussing more about the future development in Thailand. Interest in the space economy have led to programs such as 'Space Economy: Lifting off 2022' and the national space master plan 2023-2037. This will be an interesting session to discuss about the challenges Thailand have to overcome to be a global hub in space. 
To accomplish this, we have invited individuals experienced in Thailand's economy. To begin, we have Dr Tatpong Tulyananda, Researcher and Lecturer in Mahidol University. We also have Mr Chanapol Tantakosol, CEO & Co-founder of MUU. To complete the panel, Mr Amir Fuhaira bin Ishak, Biotechnologist of Euglena Malaysia. The session will be moderated by Mr Ambrose Chia from Leave a Nest Singapore Pte. Ltd.. As different perspectives consolidate, join us to effectively drive Thailand's innovation scene.
The Hyper Interdisciplinary Conference in Thailand 2023 promises to be a valuable opportunity for experts to share their knowledge and insights on the future of Thailand in space. Don't miss this chance to learn and discuss the opinions and ideas on how we can connect people and knowledge to form new technology and advance society in Thailand with the ideas and innovations that form from these connections.
The Hyper Interdisciplinary Conference (HIC) is an initiative of the Leave a Nest Group to bring together experts across disciplines and walks of life, with the aspiration that a good level of diversity is the key to successful innovation. This 2023 edition of HIC in Thailand will highlight the theme of  "Emulsification of Culture and Technology, building Global Hub the Thai Way."
Conference Details and Timeline
Date: 25th November 2023
Time: 10:00~18:00 (GMT +7, Thailand time)
Venue: Chulalongkorn University Building 4, Floor 2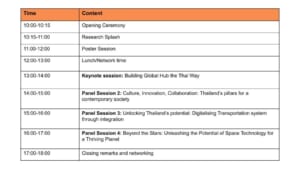 Registration
For those who are interested to join the conference, click the link below to register.
Audience registration: click here
Please take note that the conference is free for all students, faculty, and staff affiliated with academic institutions. For those affiliated with corporate or industry entities, please do not hesitate to email us. To know more updates about the conference and panelists, watch out for future announcements on the website. For more details, kindly visit our Official HIC Thailand website. For inquiries, please contact me at cheah "at" lne.st or Mark at mark "at" lne.st.