Panel 2 is themed "Culture, Innovation, Collaboration: Thailand's pillars for a contemporary society." In this session we aim to address the complex interaction between tradition and innovation. Great innovation adds value, progresses society and solves deep issues but this can sometimes be seen as disrupting the old and upsetting traditional norms. Through this panel session, we hope for listeners to engage with both sides, prompting more innovation with continued consideration of tradition. We aim to encourage a future where Thailand's innovation scene can be uniquely marked by its unique culture as collaborative ties are formed with other parties.
To accomplish this, we have invited individuals experienced in Thailand's economy. To begin, Mr Pattana Lee, CEO and Co-founder Blue Oak Co., Ltd., Blue Oak is utilising advanced ambient intelligence IoT systems for elderly care. We also have Dr Thaksaorn Srisangkhajorn, CEO and Co-founder Bencha Arokaya Thai Traditional Medicine Clinic. To complete the panel, Dr Chris Aurand, Open Innovation Leader Thai Union Group PLC, a large portfolio of seafood products The session will be moderated by Dr Kihoko Tokue (Managing Director, Leave a Nest Singapore Pte. Ltd.). As different perspectives consolidate, join us to effectively drive Thailand's innovation scene.
The Hyper Interdisciplinary Conference in Thailand 2023 promises to be a valuable opportunity for experts to share their knowledge and insights on the possibilities for Hub Construction in Thailand. Don't miss this chance to learn and discuss the opinions and ideas on how we can connect people and knowledge to form new technology and advance society in Thailand with the ideas and innovations that form from these connections.
The Hyper Interdisciplinary Conference (HIC) is an initiative of the Leave a Nest Group to bring together experts across disciplines and walks of life, with the aspiration that a good level of diversity is the key to successful innovation. This 2023 edition of HIC in Thailand will highlight the theme of  "Emulsification of Culture and Technology, building Global Hub the Thai Way."
Conference Details and Timeline
Date: 25th November 2023

Time: 10:00~18:00 (GMT +7, Thailand time)

Venue: Chulalongkorn University Building 4, Floor 2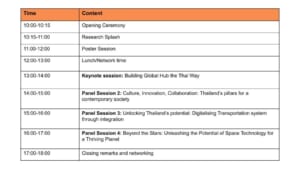 Registration
For those who are interested to join the conference, click the link below to register.
Audience registration: click here
Please take note that the conference is free for all students, faculty, and staff affiliated with academic institutions. For those affiliated with corporate or industry entities, please do not hesitate to email us. To know more updates about the conference and panelists, watch out for future announcements on the website. For more details, kindly visit our Official HIC Thailand website. For inquiries, please contact me at cheah "at" lne.st or Mark at mark "at" lne.st.