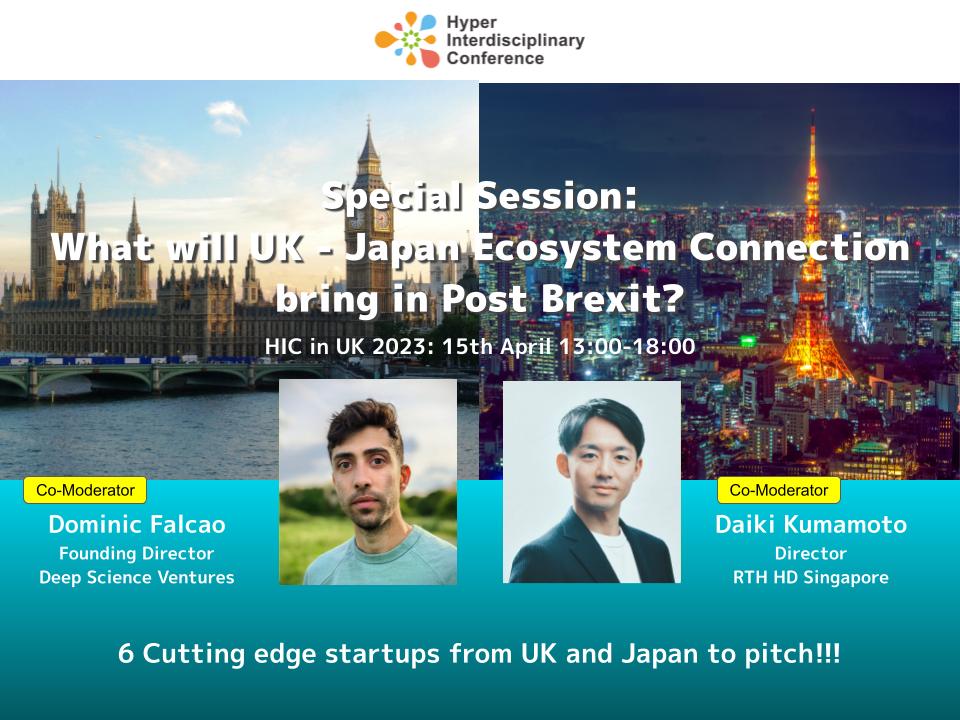 Join us at the Hyper Interdisciplinary Conference in UK 2023 on April 15th, 2023 at the IDEALondon, hosted by Leave a Nest UK. We are proud to present the presenters for the Second  session, titled "What will UK - Japan Ecosystem Connection bring in Post Brexit?". 
In this session, we will be looking at what ecosystem connection between Japan and UK can bring. There will be series of presentation from both UK and Japanese startups with unique technology that might have good synergy with technical needs in both countries During the session there will also be key player from Deep-tech ecosystem players from both countries as a moderators. 
Presenters
Japan
ARK
euglena

euglena is one of the Biotech Unicorn from Japan. They have the mass cultivation technology of micro algae "euglena". euglena is useful for both in food, cosmetics as well as bio fuel production.  Currently euglena works on development of Bio Jet fuel to fly airplane using their fuel.

WOTA

WOTA corp is a water tech company that works on the development of IoT, AI and Big Data technologies for autonomous control of small-scale, de-centralized water recycling systems for urban environments.
UK
Aquature

Aquature is a UK cleantech startup producing clean fuels from liquid waste. Our breakthrough BioElectric Refinery directly converts organic waste streams into Hydrogen and CO2: Energy positive and carbon negative. Our technology is uniquely positioned for point source or raw effluent application.

New Motion Lab

New Motion Lab is startup that have brought innovation to chain and sprocket. Their new design of sprocket will allow more efficient power transformation and it maybe used in wide range of machines that uses sprockets and chain.

Rhizocore Technologies

Rhizocore grows symbiotic fungi that associate with trees. We produce these fungi in a pelletised form that is easy to apply when trees are planted. Using our mycorrhizal fungal pellets enhances tree growth rates, decreases tree mortality rates, increases a trees tolerance to drought conditions and increases the amount of carbon sequestered by our newly planted woodlands. Our team have been collecting and building an extensive fungal library over the past two years, collecting data on how different strains and species perform under different soil and environmental conditions allowing us to match fungal organisms to the site they will be used on, maximising the timber, carbon and biodiversity benefits for our customers.
The Hyper Interdisciplinary Conference in UK 2023 promises to be a valuable opportunity for experts to share their knowledge and insights on how research can reboot UK once again. Don't miss this chance to learn and discuss the opinions and ideas on how we can bring each player to bring in value to connect different types of communities.
Conference Details and Timeline
Date: 15th April 2023

Time: 13:00~18:00 (GMT UK time)

Theme: Research Based Industrial Revolution

Venue: IDEALondon, London, UK
Timeline
Time
Content

13:00-13:15

Opening remark

13:15-14:15

Key note + panel session:

How to create researched base startup

14:15-15:15

Special Session:

What will UK - Japan Ecosystem Connection bring in Post Brexit?

15:15-16:15

Discussion Time

16:15-17:15

Panel session:

How to realize Urban Farm to Table 

17:15-18:00

Closing Remark + Discussion
For registration of the event, please register from the link below.
To know more updates about the conference and panelists, watch out for future announcements on the website.
For inquiries, drop us an email at [email protected] (Attention: Maekawa)