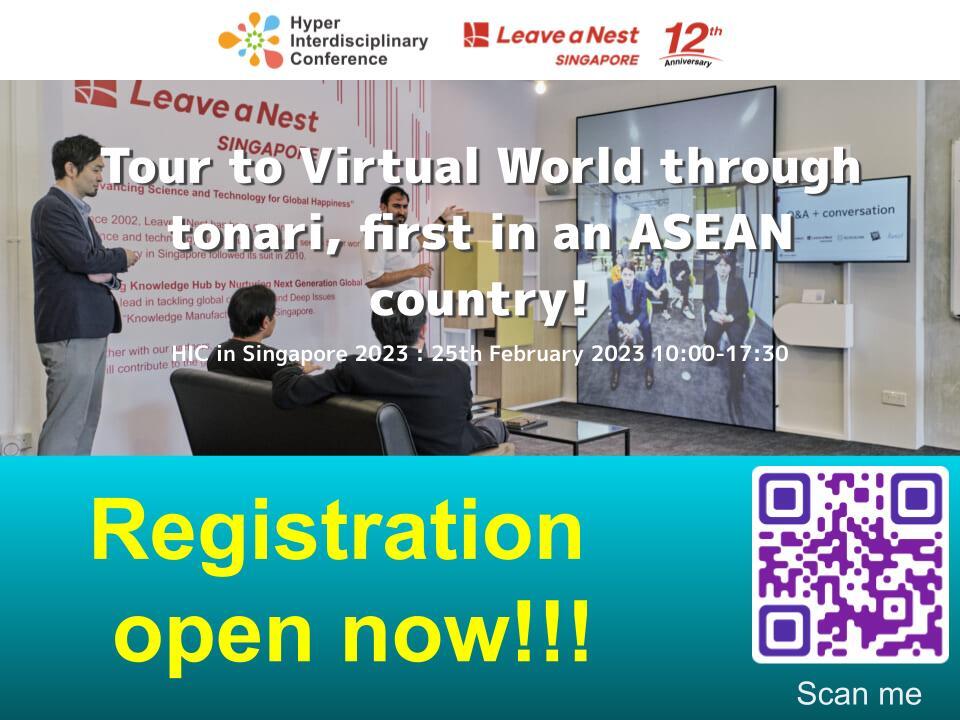 The theme for 2023 HIC in Singapore focuses on how to go to the next stage to take the step for us to continue to grow as a country. For compact countries like Singapore the pressure is strong to complement or bring in what is not available within the country from outside. Community and venture building is something that is growing within the country yet cross border collaboration is still a difficult challenge that all of us need to overcome in the near future.
Through this section, and the Hyper Interdisciplinary Conference in Singapore 2023, we will explore challenges of how to bring hub to hub connection to be sustainable for all parties involved, combining various technologies to achieve that and how corporates are already tacking how to create such projects from Singapore with researchers, frontliners and relevant stakeholders in these fields.
This year, during the Hyper Interdisciplinary Conference in Singapore, Leave a Nest Singapore will showcase a new interesting technology to the public in Singapore with a Japanese startup company called  tonari. The tonari system which gives us real time eye to eye contact with very low latency video streaming communication with normal bandwidth of internet connection.
About tonari implementation:
https://global.lne.st/news/jp/2022/11/30/tonari/
In our globalized society, technology has to play a role in enabling natural human connection. We need to explore ways to reduce the environmental costs of air travel, and the time and stress of daily commuting, to be kinder to ourselves and our planet.
The future with tonari is about connecting many places to give people more flexibility for where they work, and how they learn and grow, while also staying close to family and community.
During lunch time at 12.15 pm - 13.00 pm (SGT), HIC  SG 2023 participants who are interested, can visit the Leave a Nest Singapore office at Block71 to explore the tonari system and will have the opportunity to speak with the members in Japan and explore the new interesting technology first in ASEAN countries. 

The Hyper Interdisciplinary Conference in Singapore 2023 promises to be a valuable opportunity for experts to share their knowledge and insights on the possibilities for Hub to Hub connection for each player. Don't miss this chance to learn and discuss the opinions and ideas on how we can bring each player to bring in value to connect Hub to Hub inclusive ways of developing the communities.
Conference Details and Timeline
Date: 25th February 2023

Time: 10:00~17:30 (GMT +8, Singapore time)

Venue: the Meeting Point, 73B Ayer Rajah Crescent, Singapore 139966
Timeline
| | |
| --- | --- |
| Main hall | |
| 10:00-10:15 | Opening ceremony |
| 10:15-11:00 | Research Splash |
| 11:00-12:00 | Poster Session |
| 12:00-13:00 | Lunch Break/tonari tour |
| 13:00-14:00 | Keynote Session: Hub to Hub Connection Brings X to Singapore |
| 14:00-15:00 | Session 2: Can we Create Real Alternative Reality? |
| 15:00-16:00 | Session 3: Next IT ~Infrastructure Transformers~ What are we transforming to? |
| 16:00-17:00 | Session 4: Translating Tech from Lab to Market: Towards unlocking market needs |
| 17:00-17:30 | Closing Remarks |
For those who are interested to join the conference, click the link below to register.
If you are researcher wanting to share your research ideas/results register to join poster session with research splash by clicking link below
To know more updates about the conference and panelists, watch out for future announcements on the website.
For more details, kindly visit our Official HIC website
For inquiries, drop us an email at [email protected]