As the event day of the first Hyper Interdisciplinary Conference in Vietnam comes close, we are proud to introduce the partners who have also made it possible for this conference to happen. With this year's conference in Vietnam focusing on the recent innovations in health, education, and technology which led to the improvement of quality of life of the people, these companies chose to partner with us in pursuit of further advancements and seek more solutions to the issues that the world is facing. We hope also that our participants will be able to interact with them during the conference to initiate collaborations!
Get to know the following companies below:
---
SESSION PARTNERS

Focus Systems Corporation, founded in April 1, 1977, is an IT related company which is keen in carrying out their corporate slogan "Put Our Heart into Technologies". Their main business operations revolves around System integration, Information security, and IT services (consulting, development, operations, and maintenance). With their heart to bring happiness, Focus Systems partnered with researchers, startups, and other companies to work on projects in fields outside of IT such as business development, education, and agriculture. As Focus Systems continues to trigger and think together with interdisciplinary teams in Japan, they are also interested in extending their initiatives to other countries, as they see the potential in collaboration between IT and other fields in South East Asia.

Rohto-Mentholatum (Vietnam) Co., Ltd. has been established since 1996. Following the development of Rohto group, Rohto Vietnam is constantly trying to gain the trust of customers during 26 years of presence and development in the Vietnamese market. They have many brands which are loved by many Vietnamese generation consumers such as: V.Rohto eye drops, Acnes, LipIce, Sunplay, OXY, Hada Labo, Selsun, Megumi, Refre, etc. To date, Rohto has taken on a variety of challenges in areas such as skincare, food, agriculture, and regenerative medicine, going beyond the framework of a traditional pharmaceutical manufacturer, in order to make people healthier and more beautiful in their body and mind. This desire and approach will not change in the future. Rohto will strive together as a company to deliver beauty and health around the world by creating unique new products and services that go beyond expectations. All their staff strives with determination to "NEVER SAY NEVER" in order to make every individual, and society itself, ever healthier.

Eco-Pork Co., Ltd., a Japanese startup company who utilizes data and online platforms in order to build a sustainable, pig-centered, circular economy. Eco-Pork Co., Ltd., is a data company working to improve the production of pig farming, which boasts a market scale of 40 trillion yen worldwide and 600 billion yen in Japan. They consist of members with various careers and backgrounds, such as consulting firms, banks, IT companies, pig farmers, and veterinarians. Eco-Pork develops data solutions that make full use of AI, ICT, and IoT, and provide services not only throughout Japan but also to the world.
VENUE PARTNER
We are also proud to announce our Venue Partner for this conference, BLOCK71 Saigon. They are a technology-focused ecosystem builder and global connector which catalyses and aggregates the start-up communities. In Saigon, they spearhead new initiatives and provide mentorship and growth opportunities in key local, regional and global markets. The event will be held inside the premises of the BLOCK71 Saigon office in Ho Chi Minh City.
---
The Hyper Interdisciplinary Conference in Vietnam will happen on February 11, 2023 at BLOCK71 Saigon, Ho Chi Minh City. Registration for attendees is still open, simply click the link below or scan the QR code to register for the event. Attendance for those affiliated with any academia is FREE OF CHARGE.
Registration link:
https://global.lne.st/HICVN23Attendee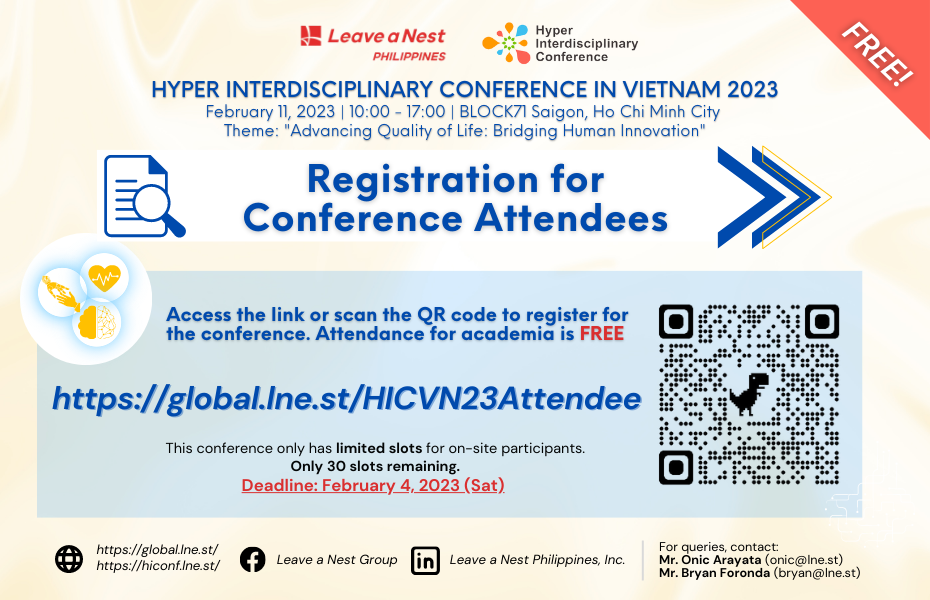 Visit our website for more details about the event:
https://hiconf.lne.st/conference/vietnam2023/
For any questions and concerns about the event, please contact any of the following: