On February 11, 2023, Leave a Nest Philippines will be holding the first ever Hyper Interdisciplinary Conference in Vietnam 2023 in Ho Chi Minh City. The conference will have 2 Panel Sessions that will dive deeper into the 2 of the 3 main components that improve everyday life: Education and Technology. The 1st Panel Session will be tackling education and  its development and contribution to improving the quality of life of the citizens of Vietnam. We want to share the panelists for this panel session entitled "Inspiring the Next Generation, Securing QoL of the Future". 
Education is a big contributor to improving the quality of one's life. Access to education leads to access to more information that develops a person's individual thinking and decision-making skills.  Packed with information brought about by education, individuals get to decide better on choices regarding their health, may it be physical or mental, which lead to better personal outcomes. Education as well as access to information paves the way for institutions such as universities, startups, and corporations to come up with ideas and plans that also benefit the education sector.
In this session, participants will be learning about the current developments done by the startup, academic, and corporate sectors regarding improving the education in Vietnam to further increase the quality of life of the citizens.
Session Panelists: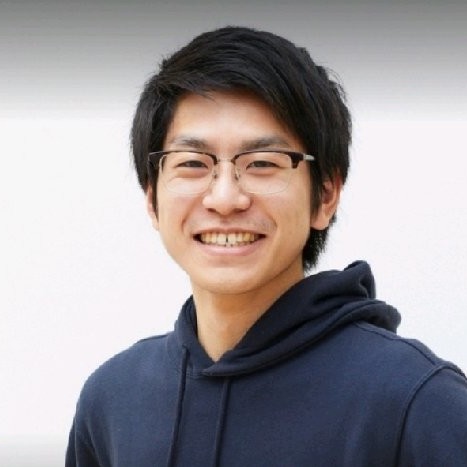 Mr. Shundai Ogawa
Strategic Planning, Data, Operations, and Product Management
Manabie International Ltd. 
Shundai started his fresh graduate career as a data analyst at Mercari, one of the largest e-commerce companies in Japan, where he was involved in experimental design and functional improvement of mobile applications. In early 2020, he moved to Vietnam to lead the localization, launch and service growth of OMO Learning Center and Live Tutoring which were main-stream in the Japan and China education market for Vietnamese high school students at Manabie.
From Fall 2021 to Summer 2022, he will start his own business in Vietnam, consulting for Japanese and Vietnamese companies. After that, he returned to Manabie and is in charge of product strategy and development direction for enterprise SaaS for educational institutions.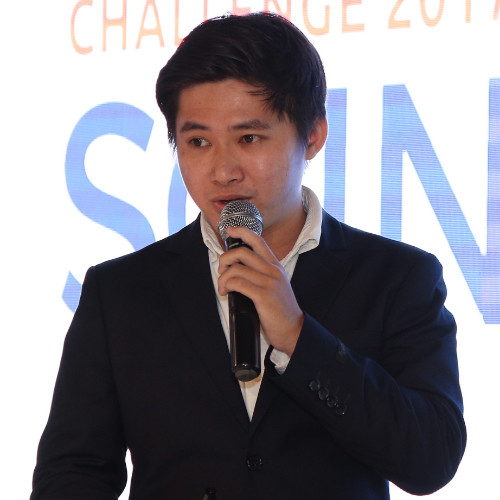 Mr. Truong Vo Huu Thien
Founder & Chief Executive Officer
GaraSTEM
Mr. Truong Vo Huu Thien has had a passion for computer technology from a young age. After graduating with his Bachelor degree in VietNam, he received a scholarship for a Master's degree in Computer Science at the Institute of Advanced Science and Technology in Japan. After completing his Master degree, he returned to Vietnam and established GaraSTEM Educational Technology Joint Stock Company with his desire of bringing STEM education closer to Vietnamese students. With over 8 years of experience and expertise in the field of Entrepreneurship and Information Technology, he has made GaraSTEM becomes one of the top STEM education companies in Vietnam. Especially in 2022, the Computer Science 10 - Computer Science Specialty textbook, which he participated in the compilation, is officially putting into a teaching program in the high school in Vietnam.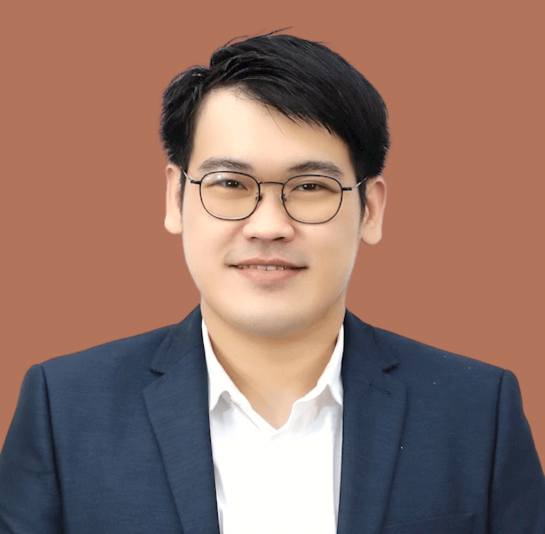 Mr. Kevin Vuong
Startup Incubation Manager
Institute of Innovation, University of Economics HCMC 
Vương Khiết (Kevin Vuong) has more than 10 years of experience in Innovation management, Branding & Marketing Management and Business Development with a demonstrated history of working in many industries, such as FMCG and Education Management. Having finished his Master's Degree specializing in Innovation Management and Entrepreneurship from Leipzig University (Germany) in 2017 with a "sehr gut"- exceptionally outstanding achievement, Kevin has started his independent consulting projects to help SMEs and startups optimize operations and improve business performances through breakthrough strategic marketing and repositioning. 
Before being directly involved and supporting the startup ecosystem in Vietnam, Kevin spent nearly 4 years working as Head of Marketing at a fast-growing international startup in both Vietnam and South-East Asia. Currently, he is working as a Startup Incubator Manager at UEH Institute of Innovation to lead the incubation programs, innovation workshops, talks, training & presentations, and entrepreneurship education initiatives. Moreover, he is leading & delivering consultancy for incubated teams regarding business models, product design, customer & market exploration, and connecting with local and international mentors and investors.
________________________________________________________________________________________
The Hyper Interdisciplinary Conference in Vietnam will happen on February 11, 2023 at BLOCK71 Saigon, Ho Chi Minh City. Registration for attendees is still open, simply click the link below or scan the QR code to register for the event. Attendance for those affiliated with any academia is FREE OF CHARGE.
Registration link:
https://global.lne.st/HICVN23Attendee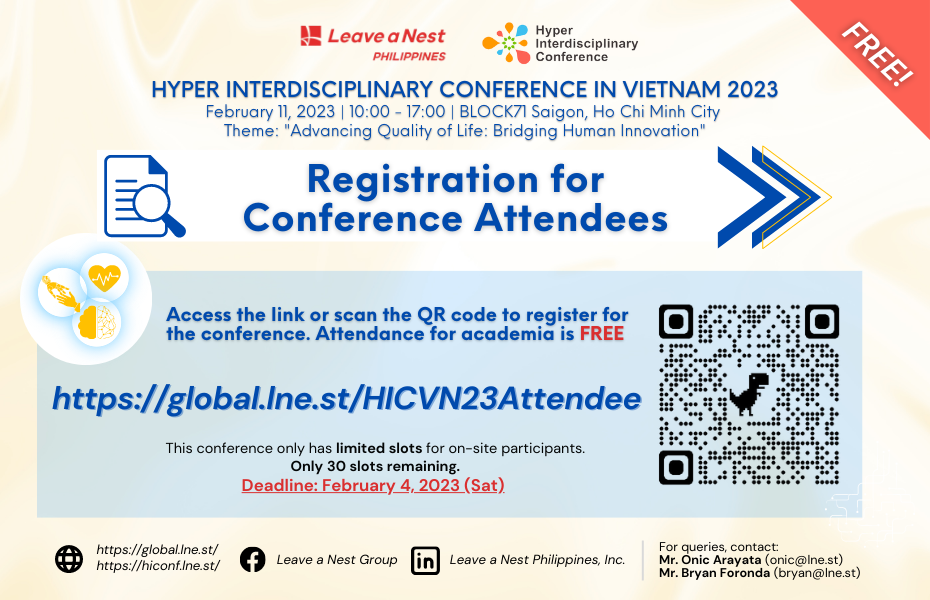 Visit our website for more details about the event:
https://hiconf.lne.st/conference/vietnam2023/
For any questions and concerns about the event, please contact any of the following: