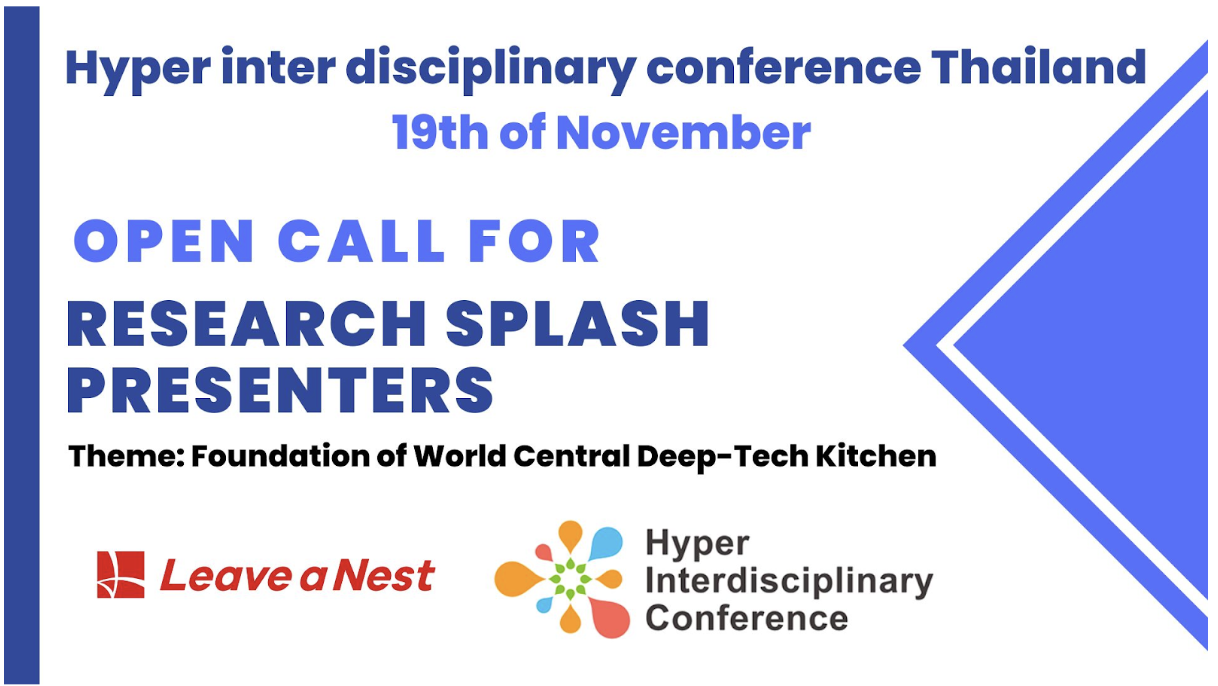 The Hyper interdisciplinary Conference (HIC) is a yearly conference that Leave a Nest Group conducts together with its subsidiaries from Singapore, Malaysia, & Philippines. We also work closely with our parent company in Japan. This HIC gives researchers, individuals from the commercial sector, government organisations, academic institutions, and even new startup businesses a platform to not only present cutting-edge research ideas but also to compile and generate fresh innovative ideas that would solve deep world issues through knowledge sharing and manufacturing.
This calendar year, Leave a Nest Singapore, is excited to share that the Hyper interdisciplinary conference held in Thailand will be a face-to-face event which will be held on 19th November 2022 from 10:00 am to 5.30pm, True Digital Park, West Tower, 2nd Floor. 
HIC Thailand will focus on the theme "Foundation of "World Central Deep-Tech Kitchen" This conference will showcase revolutionary state of the art technology from various Food-tech and Agri-tech startups which would not only improve researchers but also solve deep world issues though sustainability benefits. There will also be a special session where you get to hear from Japan and Thailand startups. Furthermore, there will be a 'Research Splash' Session where researchers can showcase their research topics and results findings through a short but condensed presentation or pitch that will portray their individual 'splash of ideas'.
Program Timeline:
Time (Thailand Time)
Activity
10:00 - 10:15
Opening remarks
10:15 - 11:00
Research Splash presentation
11:00 - 12:00
Poster Session
12:00 - 13:00
Lunch Break
13:00 - 14:00
Session 1: Deep Tech Central Kitchen

Keynote speaker: Dr Pun Arj, Executive Director of NIA

Panelists: Dr Pun Arj, Mr Chanapol (CVS Corp), Mr Narin (On the Go)

14:00 - 15:00
Session 2: Digitalisation in Thai Agriculture

Panelists: Dr Kangvansaichol (Algaeba), Mr Matas (GAORAI), Mr Tsuboi (Sagri) and researcher from ONSPEC

15:00 - 16:00
Session 3: Special session <Thailand x Japan Ecosystem Connection> 

Japan startups: Zip Infrastructure Co. Ltd., Naturanix Co. Ltd., Melody Int. Ltd., Liberaware Co. Ltd.

Thailand startups: Readring Co. Ltd., Petaneer Co. Ltd., and 2 more exciting teams TBC

16:00 - 17:00
Session 4: Food Tech Revitalizing the Community 

Panelists: Miss Minnie (Morefoods Innotech Co. Ltd), Dr Sakamon (KMUTT) and 1 more TBC

17:00 - 17:30
Closing Ceremony
We are looking for researchers from universities, research institutions or government organisations to apply as a research presenter during our Research Splash sessions. The registration for the session will be free of charge! Please feel free to apply and use this opportunity to showcase your research but do take note that there will only be 20 slots available. 
Interested applicants are required to create a Leave a Nest ID account (https://id.lne.st) before filling the Leave a Nest ID form below for approval of your application
Click here to register to be part of the research splash!
Click here to register to attend HIC for participants
Please direct any questions to Mango Loo (ying_mango"at mark" lne.st) or Kihoko Tokue (tokue"at mark"lne.st)