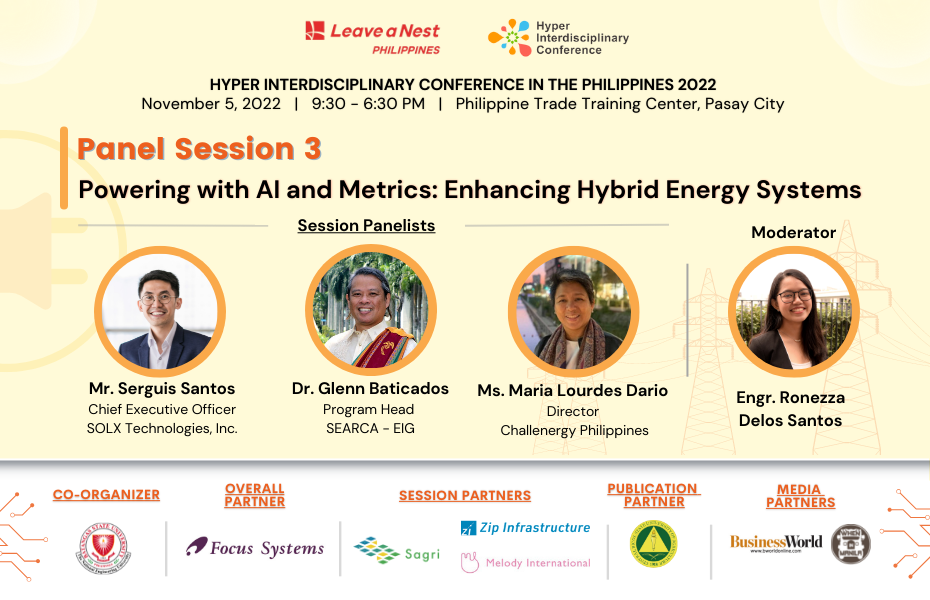 On November 5, 2022, Leave a Nest Philippines will be conducting the Hyper Interdisciplinary Conference in the Philippines 2022. Aside from the Keynote Session, the conference will have 3 Panel Sessions that will explore data analytics and IT integration in different verticals. For the 3rd Panel Session, it will be focused on the use of AI technologies in the energy field. We want to share the panelists for this panel session entitled "Powering with AI and Metrics: Enhancing Hybrid Energy Systems".
The Philippines is notorious for having electricity rates way too high for its economic level. Reasons behind this include challenges in power generation and distribution arising from the archipelagic structure of the country. Thankfully, new and improved technologies for energy generation have been sprouting to provide for off-grid areas, and a number of them are committed to generate energy more sustainably. The government also has policies to democratize the energy supply, allowing consumers to decide on their energy sources for cheaper and greener options. Adopting these new energy sources and policies requires a more complex management system, especially with a larger amount of data and information generated.
In this session, we will be introducing a technology that has effectively used the power of data analytics to allow consumers and different entities to operate efficiently under Exora Technologies with CEO Mr. Sergius Santos. Together with him, Dr. Glenn Baticados, the Program Head of Southeast Asian Regional Center for Graduate Study and Research in Agriculture - Emerging Innovation for Growth Department (SEARCA-EIGD), and Ms. Maria Lourdes Dario, Director of Challenergy Philippines, will be joining the panel to give the participants further insights on how emerging technologies in renewable energy sector can be utilized and provide significant impact in the Philippines.
---
Session Panelists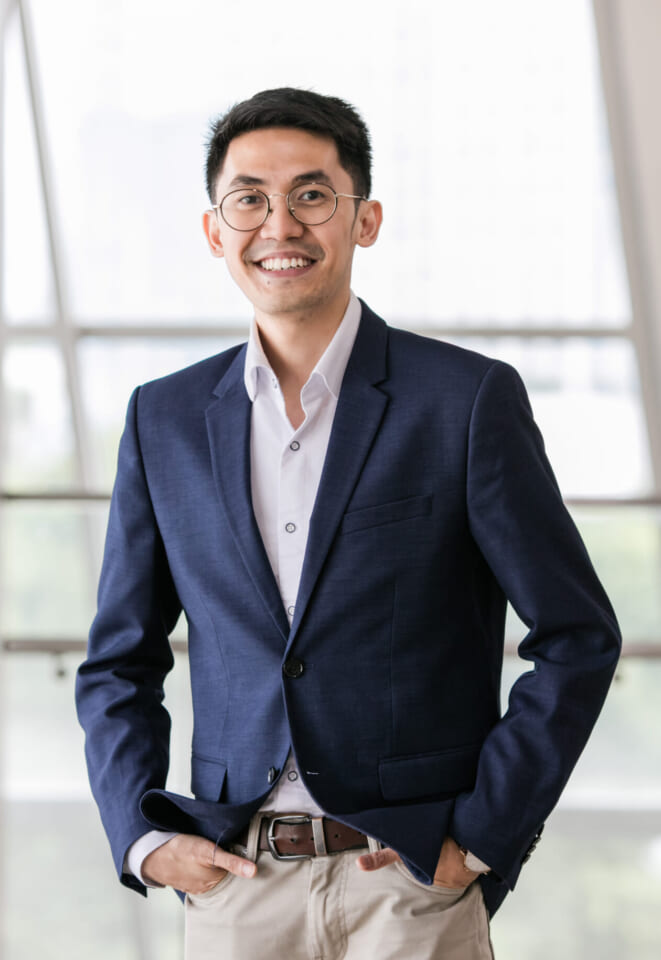 Mr. Sergius Santos
Co-Founder and Chief Executive Officer
SOLX Technologies Inc. (formerly Exora Technologies, Inc.)
Sergius Santos is a graduate of MS Systems Engineering at the Kyushu Institute of Technology and BS Electronics and Communications Engineering at Ateneo de Manila University and was recognized by the St Gallen Symposium as one of its 100 leaders of tomorrow in 2018. Sergius is the co-founder and CEO of SOLX Technologies (formerly Exora), an energy solutions company in the Philippines. The company aims to provide affordable and accessible electricity to all Filipinos. Overall, Exora has helped save clients 1.9 M USD in electricity cost. Its platform is regarded to have enabled the first and fastest digital energy procurement in the Philippines streamlining the process from 3 to 6 months to 2.5 weeks.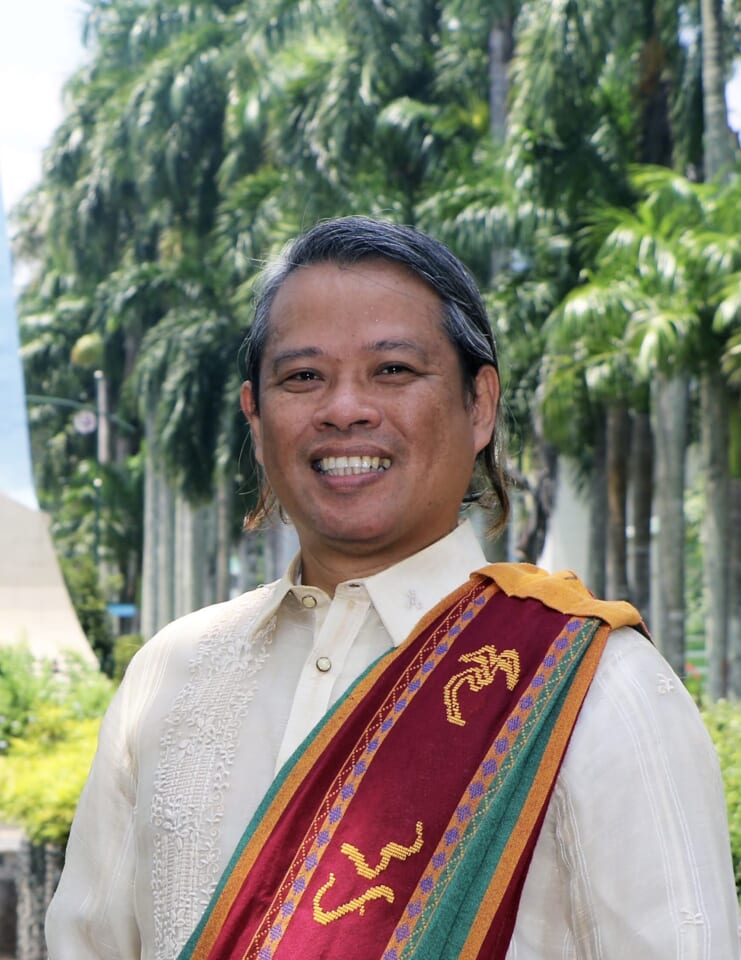 Dr. Glenn Baticados
Program Head, Emerging Innovation for Growth Department
Southeast Asian Regional Center for Graduate Study and Research in Agriculture
Mr. Baticados holds a Masters degree in Business Management from UPLB, an alumnus of the Asian Institute of Management, and a Lifelong Scholar of Michigan State University. He is amember of the faculty of the Department of Agribusiness Management and Entrepreneurship of UPLB. He currently serves also as the Program Head of the Emerging Innovation for Growth Department (EIGD) in the Southeast Asian Regional Center for Graduate Study and Research in Agriculture (SEARCA).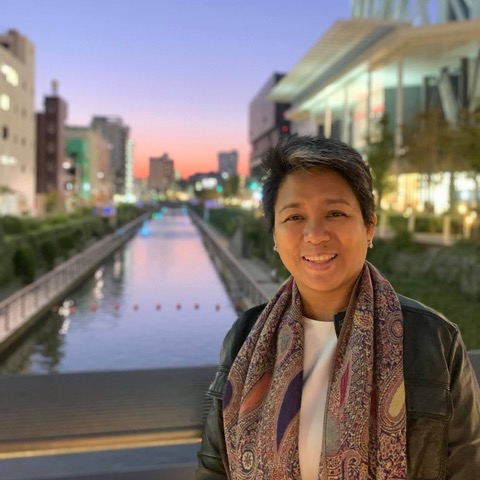 Ms. Maria Lourdes Dario
Director
Challenergy Philippines
A graduate of Kyushu University with a degree on BS Biology major in Genetic Information and Control, on her return to the Philippines, she has been engaged with Japanese government technical assistance projects in the country in the field of environment, energy efficiency and renewable energy, as well as Japanese companies business development in the Philippines in the fields of agriculture and manufacturing.
---
The Hyper Interdisciplinary Conference (HIC) in the Philippines 2022 is the flagship conference of the Leave a Nest Group that aims to bring together people from different disciplines and walks of life, with the belief that a good level of diversity is the key to successful innovation. This year, the conference will return to its original face-to-face implementation with the theme "Philippines in 3D: Data-Driven Deep Technology"
Conference Details
Date: November 5, 2022
Time: 9:30 AM - 6:30 PM
Venue: Philippine Trade Training Center (Pasay City, Philippines)
Program Timeline
Time 
Activity

9:30 - 9:45 AM

Opening Ceremony

9:45 - 10:45 AM

Keynote Session 

(

Fusing the Framework of IT and Deep Technologies)

10:45 - 11:30 AM

Research Splash

11:30 - 12:30 NN

Poster Session 

12:30 - 1:30 PM

Lunch Break

1:30 - 2:30 PM

Panel Session 1 

(Tuning-in to Digital Health: Growing Disparity in Prenatal Care)

2:30 - 3:30 PM

Engineering Splash

3:30 - 4:30 PM

Panel Session 2 

(Cyber-focused Ecology: Mapping the Seeds through Environmental Analytics)

4:30 - 5:30 PM

Panel Session 3 

(Powering with AI and Metrics: Enhancing Hybrid Energy Systems)

5:30 - 6:30 PM

Awarding, Investment Announcement and Closing Ceremony
To know more about the conference and panelists, watch out for future announcements on this website, our official Facebook Page (Leave a Nest Group) or official LinkedIn account (Leave a Nest Philippines, Inc.).
For other questions and concerns, you can also contact Leave a Nest Philippines, Inc through: