Hyper Interdisciplinary Conference in Thailand 2022 is proud to announce exciting session brought to you by True Digital Park, Leave a Nest Group and 8 deep tech startups from Thailand and Japan.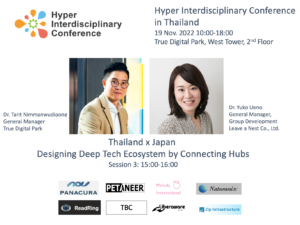 To register to join Hyper Interdisciplinary Conference Click Here
Panel Session 3: Thailand x Japan
~Designing Deep Tech Ecosystem by Connecting Hub~
Invited Speakers: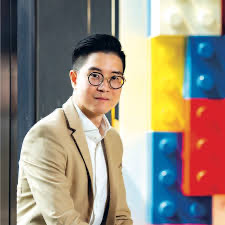 Dr. Tarit Nimmanwudipong, General Manager, True Digital Park
All-rounded GM equipped with experience managing different business units simultaneously. Skilled in strategic planning with management consulting background. Result-and data-driven. Always put priority on new business development and partnership/community building for sustainable business performance. Highly capable of stakeholder management. Constantly acquire good grasp of latest social and economic developments in order to keep operating business(es) relevant to current trends.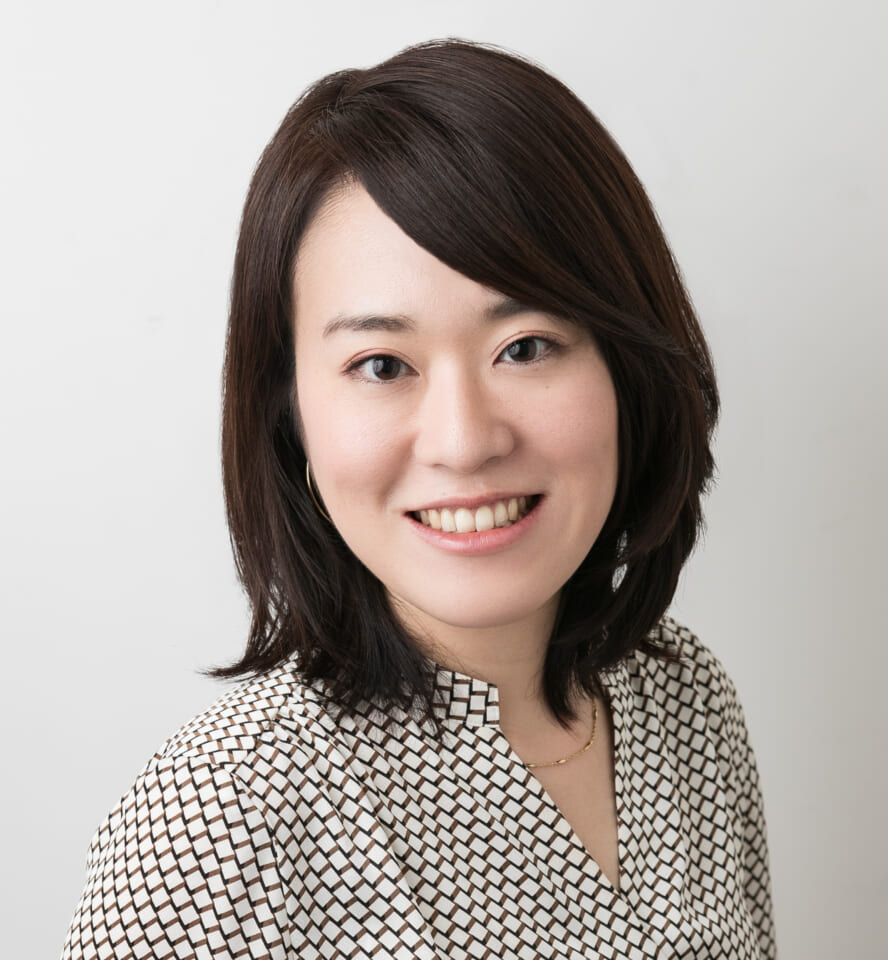 Dr. Yuko Ueno, General Manager, Leave a Nest Co., Ltd.
Dr. Yuko Ueno received her Ph.D in Ocean microbiology-biochemistry and joined Leave a Nest in 2013. She have experience in producing new project by encouraging collaboration between academia and industry as a Science Bridge Communicator. Currently she leads Leave a Nest Group's Group development as a general manager.
Experienced in Human Resources specialist with a demonstrated history of working in the research industry. Strong community and social services professional with a Ph.D focused in Microbiology, Biochemistry from Rikkyo University and University of Maryland Center of Marine Biotechnology.
8 deep tech startups (4 from Thailand and another 4 from Japan) pitch (for more information check below)
Deep Tech Startups are emerging in various countries and up until now it has mainly been incubated within their own countries. Once they are ready to expand overseas, the deep tech startups expand to the target market with their own initiatives or by support from the government. This kind of support has usually been brought by the governments of respective countries. Such initiatives have been initiated by each country before the pandemic and it is resuming its activities as borders are reopening.
In this session, we hear from Dr. Tarit Nimannwudipong (TH) and Dr. Yuko Ueno (JP) about how private sectors from both countries focusing on deep tech can play crucial roles in connecting the deep tech ecosystem in each country in a collective manner. In addition to their sharing, we are also inviting 4 deep tech startups' each from Thailand and Japan to share about their plan to expand their business overseas.These startups are chosen based on their interest to expand overseas (Thailand for Japan startups and Japan for Thailand startups) as well as their TECH PLANTER alumni status and recommendations from each company.
This session will give a good overview on how deep tech startups from each country can expand their business from their mother country. We will discuss how private sectors from each country will work towards creating the market together with the deep tech startups by combining business of startups with existing corporations.
About True Digital Park
True Digital Park is Southeast Asia's largest tech and startup hub, spanning over 200,000 sqm. The whole project is divided into East and West. True Digital Park East open in 2019 is the first phase of the project, while True Digital Park West open in 2022 is the new development that was designed under the concept of "Tomorrow Life Campus".
The park is a critical driver for the development of the startup and innovation ecosystem in Thailand. All under one roof, startups, entrepreneurs, tech companies, investors, accelerators, incubators, academies and government agencies co-exist in our interconnected ecosystem.
About Leave a Nest
The world is full of issues to be challenged. Science and technology can solve those. Leave a Nest is working on Knowledge Manufacturing to develop science and technology and to implement the power of them to our society. We aim to realize a better future together with various educational institutions, researchers and companies that share the same philosophy
Startups joining the sessions are: (in alphabetical order)
From Thailand
Nabsolute: BioTech
Petaneer: Pet Tech
ReadRing: Inclusive Tech
From Japan
Melody International: Health Device Tech
Naturanix: Energy Tech
Liberaware: Drone Tech
Zip Infrastructure: Mobility Tech
To register to join Hyper Interdisciplinary Conference Click Here
*If you are registering for Leave a Nest event for the first time, you will be required to register for LNestID first before registration of the event