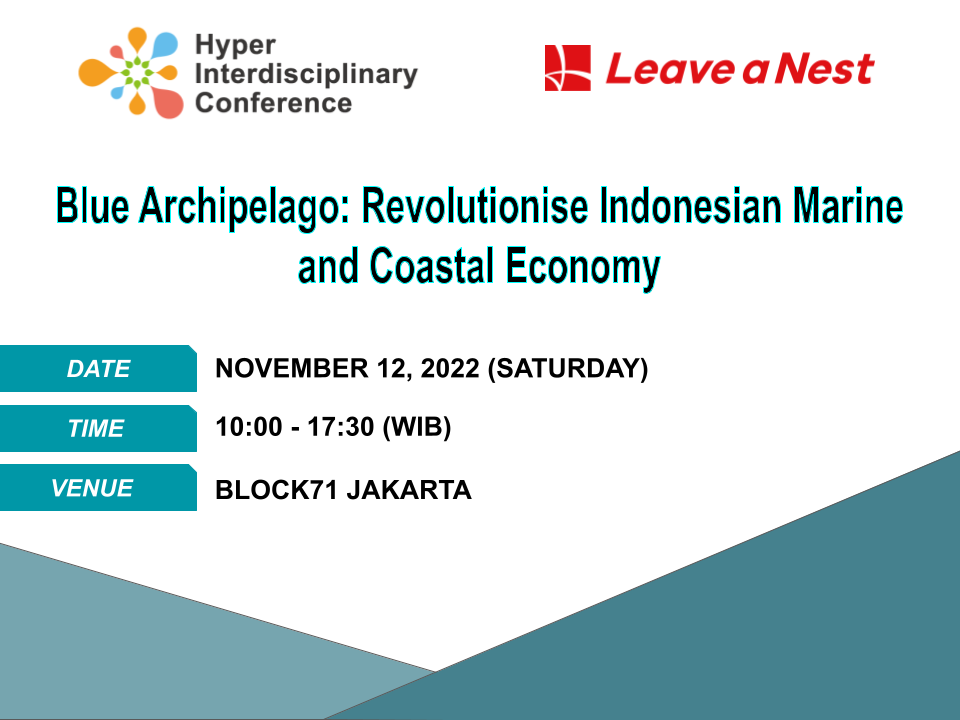 Leave a Nest Malaysia Sdn. Bhd. will be organizing its first Hyper Interdisciplinary Conference (HIC) in Indonesia on 12th November 2022!
The number of research papers is increasing exponentially and many sophisticated technologies have been developed but are yet to reach society. To overcome this, Leave a Nest developed a new concept called the 'Hyper-Interdisciplinary Conference' in 2012 in Japan. Initially, it was an internal communication platform to exchange and share research findings between Leave a Nest members to create a new research field. Since then, it has evolved to become a unique conference where corporations, startups, researchers, and students from different fields gather together and work on developing new opportunities. From 2019 onwards, this platform expanded to the ASEAN countries starting with Singapore, Malaysia, and the Philippines.
Now, we are looking forward to bringing this unique conference to Indonesia. The main purpose of this conference is to provide an interdisciplinary platform to discuss the most recent trends, innovations, concerns, and practical challenges encountered and solutions endorsed to revive the Indonesian marine and coastal economy. This is also a platform for generating new seed research in different research fields.
Keynote Speaker Announcement
The theme for the Hyper Interdisciplinary Conference in Indonesia this year is Blue Archipelago: Revolutionise Indonesian Marine and Coastal Economy and we are proud to announce that we have Prof. Dr. Rocky Karna Radjasa, Chairman of Research Organization of Earth Sciences. National Research and Innovation Agency (BRIN). as our honorable keynote speaker.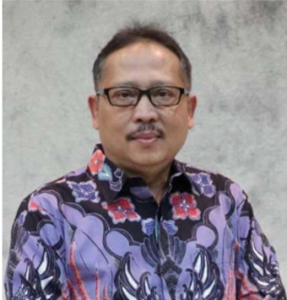 Prof. Dr. Ocky Karna Radjasa
Chairman of the Research Organization of Earth Sciences.
National Research and Innovation Agency (BRIN)
Prof. Dr. Ocky Karna Radjasa is an alumnus of the Faculty of Biology, Jenderal Soedirman University in 1989. He received his Master's degree in Microbiology from Ontario, Canada in 1994 and completed his Ph.D. program in Marine Microbiology at the Department of Aquatic Biosciences, University of Tokyo, Japan.
He has more than 20 years of experience in research related to marine biotechnology and has published over 40 scientific papers in national and international journals. A recipient of several awards by national and international organizations, including the Collaborative Development Award (CDA) by British High Commission Singapore, British Council (2013); Biovision Catalyzer Award on Biodiversity, Climate Change, and Agronomy, at the Biovision the World Life Science Forum, France (2013); Equipment Award from the German Ministry of Economic and International Cooperation, Germany (2007 and 2014); Cipta Lestari KEHATI Award from the Indonesian Biodiversity Foundation (KEHATI), Indonesia (2006).
Prof. Ocky has been appointed to several notable positions including being part of the Expert Team at the CTI-CFF National Secretariat (Coral Triangle Initiative-Coral Reef, Food and Fisheries), and a member of the Research and Development Commission at the Ministry of Marine and Fisheries (2013).
Under the topic "Enabling Sustainable Coastal Economy to Improve Indonesian Livelihood", the Keynote will address the current landscape of marine and coastal communities in Indonesia, the challenges they face, and the opportunities that lie ahead. With a strong portfolio in marine research and involvement in government organizations, Prof. Ocky will deliver his speech on BRIN's contribution to improving the marine and coastal communities to support the Indonesian government in preparing for Indonesia's Blue Economy Roadmap.
Call for Participants
To bring valuable research works to a wider audience, we welcome corporates to become our new conference partners and researchers as poster presenters in the Hyper Interdisciplinary Conference in Indonesia 2022. We are opening the application for Poster Presenters until 1st November 2022. Registration is FREE  and researchers from any field are welcome to apply. Selected 10 posters highly related to this HIC's theme will be invited for a 2-minute pitching slot in the Research Splash session. We strongly encourage you to submit your applications as soon as possible. Interested participants can apply through the link or by scanning the QR code (Google Form) below:
Google Form: https://global.lne.st/posterpresenter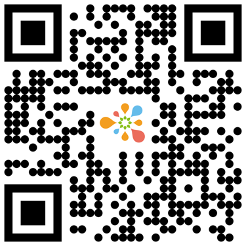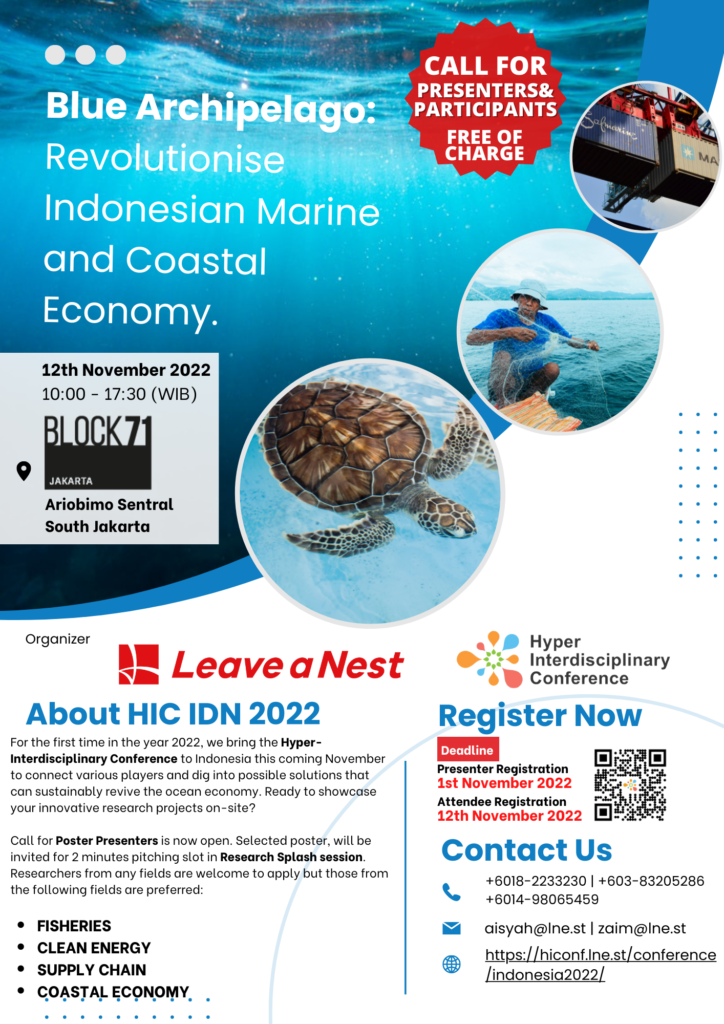 Program details
Event                          : Hyper Interdisciplinary Conference in Indonesia 2022
Date                            : 12th November 2022 (Saturday)
Time                           : 10:00 am - 17:30 pm (WIB) | 11:00 am - 16:30 pm (MYT)
Venue                         : BLOCK71 Jakarta, Ariobimo Sentral, South Jakarta
Theme                        : Blue Archipelago: Revolutionise Indonesian Marine and Coastal
Economy
Participants Fee        : Free of Charge (FOC)
Featured Activities   :
Keynote Session
Panel Discussion
Short pitching by Researchers and Startup
Poster Exhibition
Target Participants   : Academic Researchers, Government Agencies, Corporates, Startups
TIMELINE
ACTIVITY
CONTENT
0930-1000
Registration
Registration
1000-1015
Opening ceremony
Welcoming Remarks by Ms. Aisyah Abdul Hamid, Frontier Development Division, Leave a Nest Malaysia Sdn. Bhd.
1015-1115
Keynote Speech & Panel Discussion 1
Topic: Enabling Sustainable Coastal Economy to Improve Indonesian Livelihood
1115-1200
Research Splash
2 min pitching by researchers
1200-1300
Poster Session
1300-1400
BREAK
1400-1500
Panel Discussion 2
Topic: Preservation of Life Below Water for Sustainable Fisheries
1500-1600
Startup Splash
Topic: Underpinning Coastal Economic Transition to Optimize Wealth
1600-1700
Panel Discussion 3
Topic: Modernizing Coastal Transportation to Boost Fishery-based Ecotourism
1700-1730
Award and Closing Ceremony
Closing Remarks by Mr. Nur Ahmad Zaim Hussin, Director of Leave a Nest Malaysia Sdn. Bhd.
1730~
Photo Session
Please take note that the conference is only free for students, faculty, and staff affiliated with academic institutions. For those affiliated with corporate or industry entities, please do not hesitate to email us for more details.
To learn more updates about the conference and panellists, watch out for future announcements on the website.
For more details, kindly visit our Official HIC website
For enquiries, drop us an email at: [email protected] or [email protected]