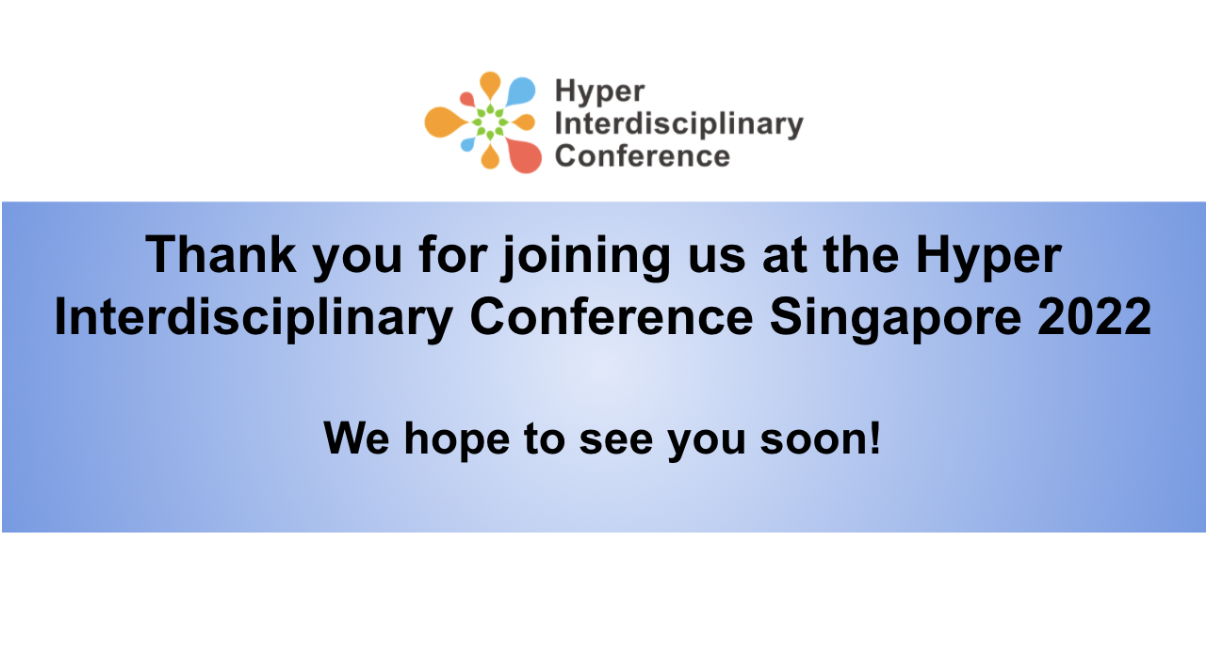 On 26th February 2022, Leave a Nest Singapore Pte Ltd. successfully conducted the 4th Hyper Interdisciplinary Conference in Singapore (HIC SG) virtually . This event was supported by Mitsui Chemicals, Glico, and ACSL. We would like to thank them for their utmost support. 
The theme for HIC SG is- What will Homo Sapiens be in 100 years. ~Designing the future beyond a mature economy~. This theme highlights how Singapore will develop as a nation beyond a hundred years. 100 people with various backgrounds and nationalities joined us on a Saturday morning. We aim to bring together people of various sectors, backgrounds and communities to foster a firm bond between each discipline and hope to generate new knowledge in order to overcome potential challenges ahead of us. 
The day conference included segments such as Tech Splash, Keynote speech and Panel discussions.
We first started off with TECH SPLASH, this year, we have created a unique blend of Tech Splashers. The Tech Splashers include, corporates (Mitsui Chemicals and Glico), Startups (Movel, Sentient.io and Avatamed), Researchers from Nanyang Technology University (NTU hereafter, Ms Aditi Narang) and The University of Hong Kong (HKU hereafter, Dr Liu Xue Lei, Dr Wu Chang Jin Steven, Dr Clarence Cheng, Dr Samuel Lai, Ms CHen Yuan Wang and Mr Xu Wei). We would like to thank them for their generosity to share their research across the borders with us. 
Based on their sharing, we were able to cover topics ranging from post-consumer recycled plastics, sustainable agriculture, drones, drug screening, artificial intelligence, robotics from the corporates; medicinal chemistry, material science, analytical chemistry and catalysis from the researchers (NTU & HKU).Via this session, we were able to understand more of what is happening within the research labs of corporate firms and academia research institutions. The TECH SPLASH session aims to become a platform to form a stronger community for researchers to come together and share their information.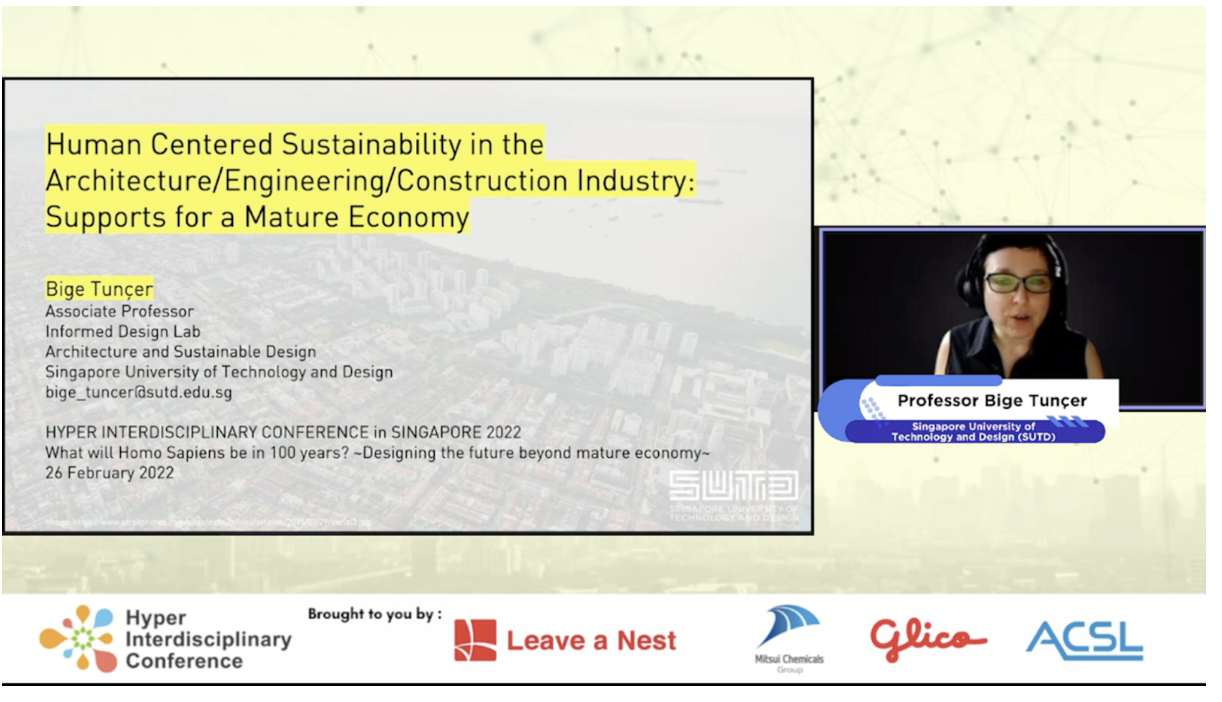 Keynote Speaker: Professor Bige Tuncer, Associate Professor, Singapore University of Technology and Design 
It was our pleasure to have Professor Bige from SUTD to be our keynote speaker. In her keynote speech, she shared with us that urban planning and design is not solely based on architecture, it involves many pillars (sociology, psychology, engineering and big data) to come together to form an idea on what the general public needs. She has also elaborated on the fact that increased social interactions that cities are able to provide will lead to the increase in productivity and innovative power of the cities. The increase in such interactions can be made possible if the cities provide public places and transportation infrastructure that can maximise 'contact surface' between highly diverse population groups.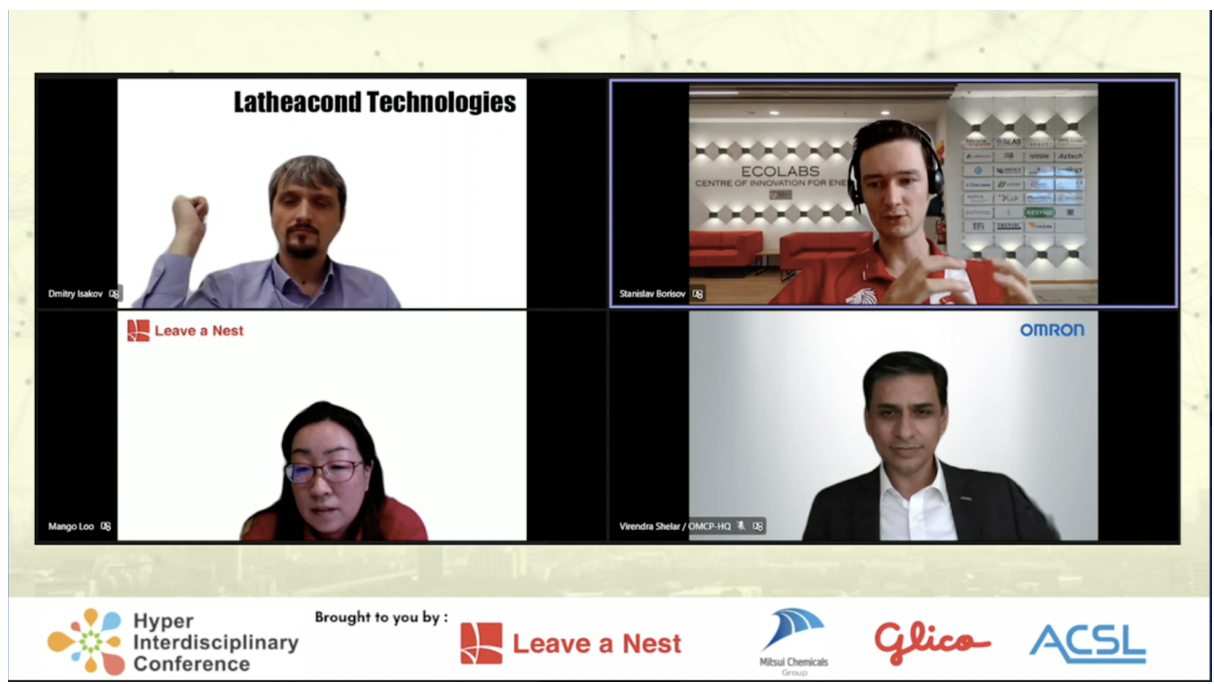 Panel Session 1: Future of Mature Economy. Role of each sectors 
Panelists and Moderator (left to right): Dr. Dmitry Isakov (Founder and CEO Latheacond Technologies), Mr. Stanislav Borisov (Innovation Manager, EcoLabs), Dr. Kihoko Tokue Managing Director, Leave a Nest Singapore - Moderator), Mr. Virendra Shelar (Executive Officer, Omron Corporation). 
A unique blend of panelists were included in this session, MNCs, startup and the government sector. Mr Virendra shares the SINIC Theory from OMRON which successfully predicted on how the world will be like up till 2033. Mr Stanislav from Ecolabs expressed that Singapore has a great ecosystem system in place which greatly supports the growth of disruptive technologies which is optimistic about the future. Lastly, Dr Dmitry from Lantheacond shared about the technology that he has developed to keep food fresh using thinly walled reefers which are a lot lighter than  conventional reefers.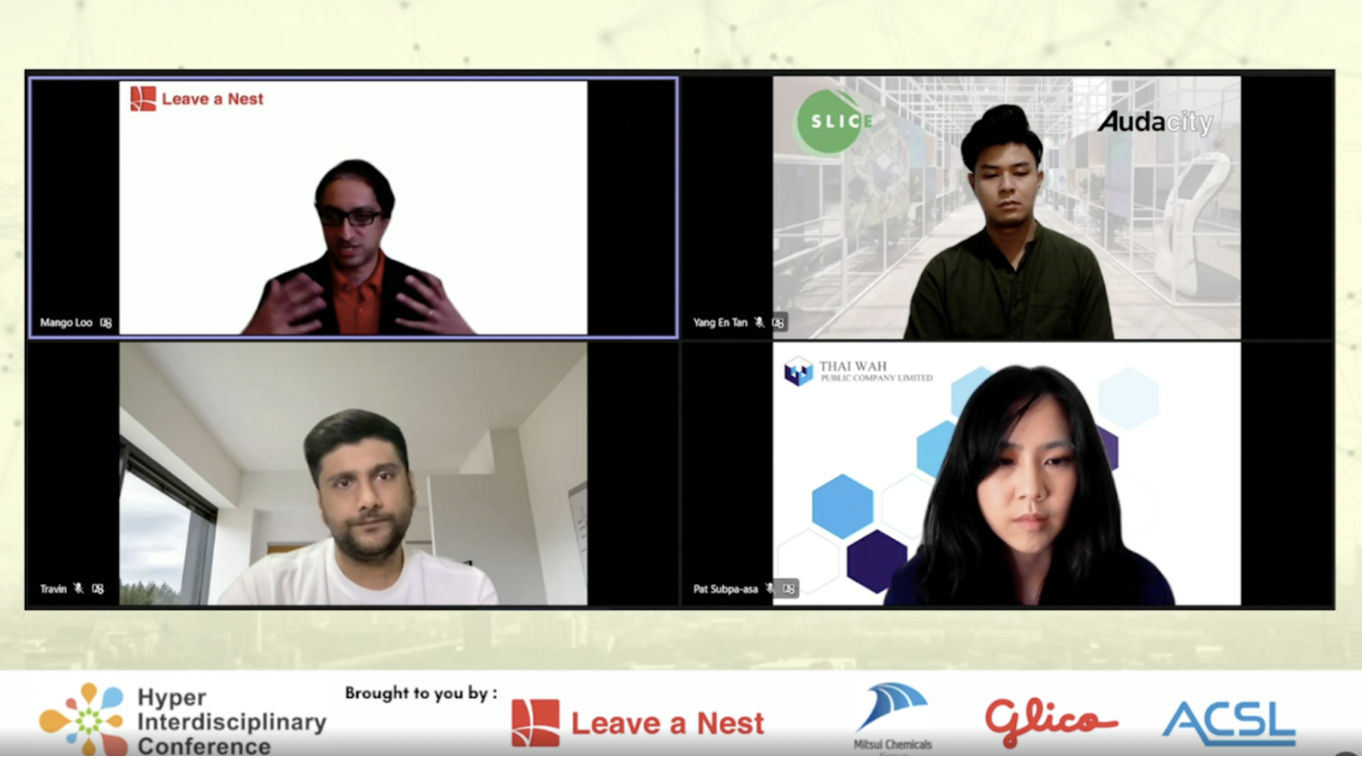 Panel Session 2 Defining the Future Food Culture, What will Prevail
Panelists and Moderator (left to right): Dr. Ravi Ramanujam (Glocalink Singapore- Moderator), Mr. Yang En, Co-Lead, SLICE Pte. Ltd.), Mr. Travin Singh, Founder, CRUST Holdings), Ms. Pat Subpa-asa (Senior Manager in Corporate Strategy, Thai Wah Public Co. Ltd.)
In this session, we also managed to discuss the future of food with corporate, startup and the ecosystem of food tech startups. Mr Yang En expressed that the future of food will need to be able to satisfy the taste buds of people in the future. The food system in future alsol needs to be sustainable and resilient at the same time. Mr Travin Singh states that  food will need to be more collaborative as compared to before. Education was being done to help the public understand more about the idea of upcycling. All three parties agree that food needs to be able to meet the needs and expectations of consumers.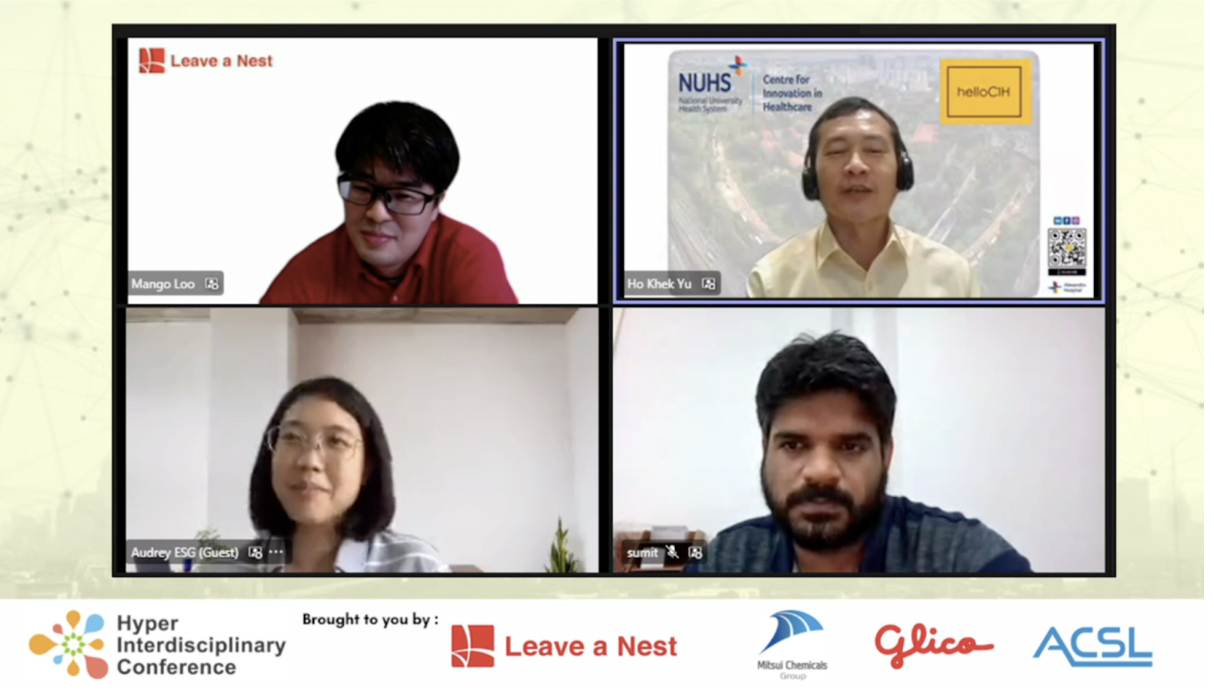 Panel Session 3: Singapore as Testbed for Healthcare Tech
Panelists and Moderator (left to right): Mr. Shohei Maekawa (Director, Leave a Nest Singapore - Moderator), Professor Lawrence Ho (Director, Centre for Innovation in Healthcare), Ms. Audrey Lok (Director, Healthcare & Medical Enterprise Singapore), Mr. Sumit Khemani (CEO & Founder, Smartfuture). 
In the third session, panelists discussed whether Singapore will be a suitable testbed for healthcare technology. Professor Ho mentioned that different stakeholders (hospital, national) are aligned for making Singapore a testbed. Miss Audrey Lok from ESG mentioned that they have a few platforms available to invite startups and corporates from all around the world, hoping to cultivate a mindset of innovation. Despite having many overseas startups coming to Singapore, Mr Sumit from Smartfuture expressed that it will not be competitive, instead, it will be an opportunity for potential solution. Singapore is good as a springboard for startups to launch into Southeast Asia. 
Special Presentation
In addition to the panel session, we also have med tech startups from Japan to share with us about their products, they include Ory Labs, Melody International and ABA Inc.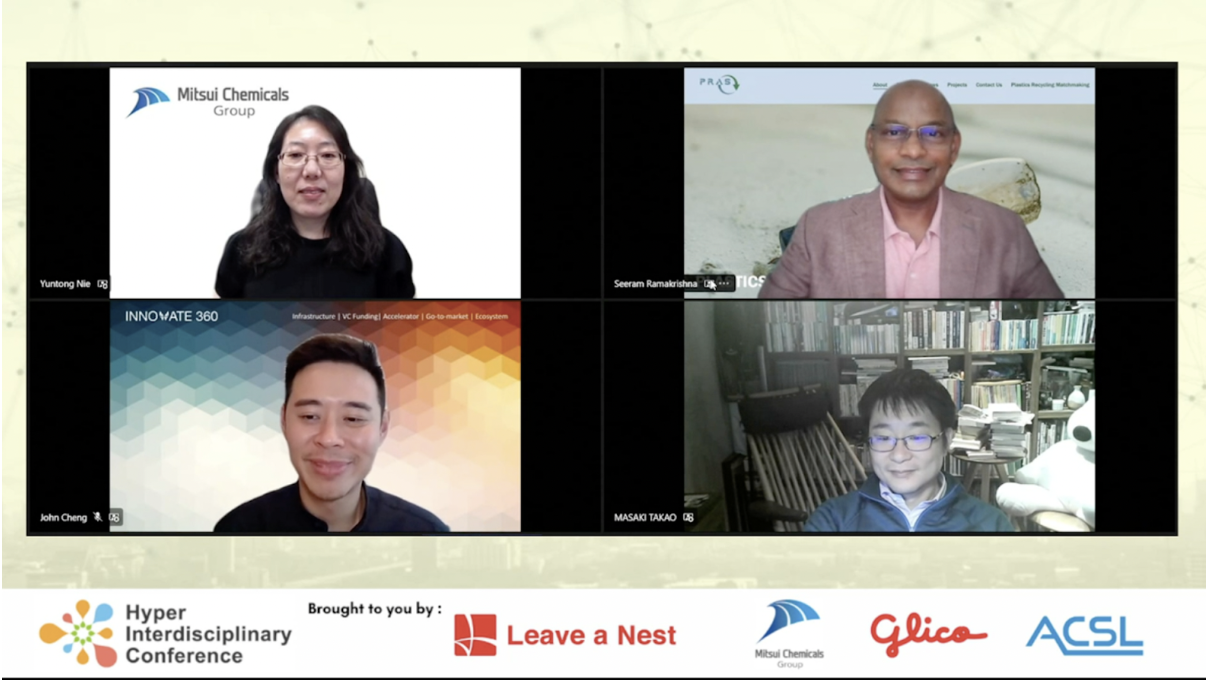 Panel Session 4: Can The Use of Post-Consumer Recycled (PCR) Plastic For Non-Food Contact Packaging Be a Sustainable Solution For Singapore? 
Panelists and Moderator (left to right): Dr. Nie Yuntong, Manager, Mitsui Chemicals Singapore R&D Centre, Pte. Ltd.- External Moderator), Professor Seeram Ramakrishna, Everest Chair Circular Economy Taskforce at the National University of Singapore (NUS), Mr John Cheng (Director and Founder, Cheng Yew Heng Candy Factory and Innovate 360), Mr. Masaki Takao (CEO and Founder, JEPLAN, INC.) 
The MSRD supported session aims to look for insights and views about the usage of PCR from the other panelists of different backgrounds. 
Professor Seeram expressed that the national strategy of recycling is very much in line with what MSRD has, additionally, the Extended Producer Responsibility (EPR) scheme for plastics will be rolled out soon in Singapore. Mr John Cheng who is predominately in the food manufacturing industry, naturally finds it challenging to adopt recycled plastics as it is in close contact with food. Mr Takao also gave tips on recycling as Japan has an impressive recycling rate of 85%. In Japan, close collaborations between the government and private sectors are in place to encourage recycling. 
Overall, Singapore is working towards a higher recycling rate with government schemes in place and more cooperation between the government and consumers are highly sought after. 
Stay tuned for more exciting events that are coming up! We hope to see you soon! 
For researchers and startups who are interested in commercialising, join us at TECH PLANTER
TECH PLANTER Thailand: Click HERE to register 
TECH PLANTER Singapore: Click HERE to register