INFRASTRUCTURE session: "How emerging technologies bring innovation to tackle island issues?"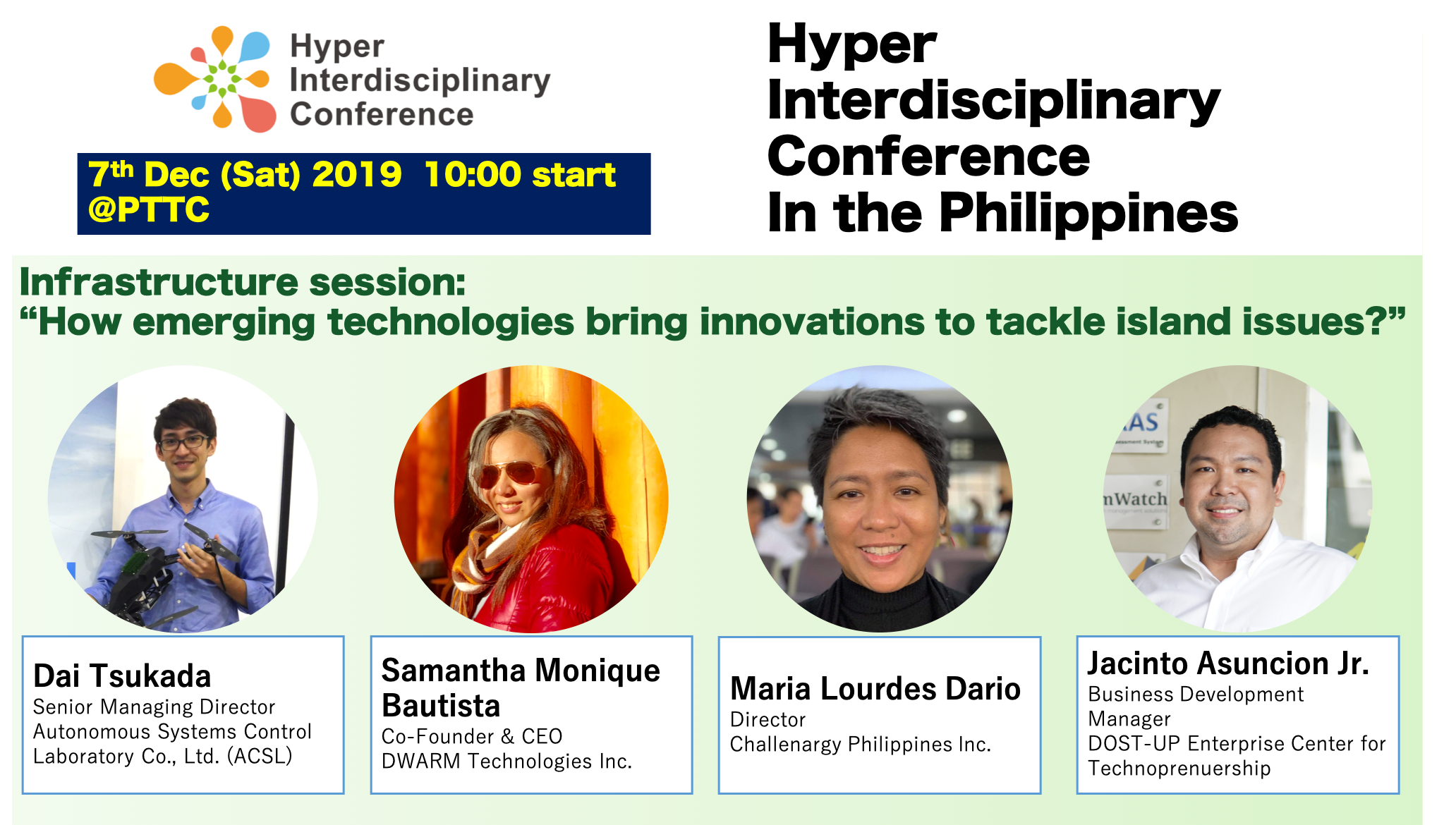 In HIC in the Philippines (Saturday 7th December, 2019), we will gather the front runners in education from the Philippines and Japan to conduct a panel discussion to discuss the future directions to take in the Philippines.
HYPER INTER-DISCIPLINARY CONFERENCE in the Philippines
■Theme Island Issues and its Potential
■Date & time December 7th, 2019、10:00am - 5:30pm
■Venue Philippine Trade Training Center, Pasay City
(cor, Sen. Gil J. Puyat Ave, Pasay, Kalakhang Maynila)
■Registration https://hiconf.lne.st/conference/philippines2019/
===4:20pm~ INFRASTRUCTURE session: "How emerging technologies bring innovation to tackle island issues?"===
In the Philippines, which consists of more than 7,000 islands, and where population growth continues and long-term economic growth is expected, infrastructure development is important as a foundation for social development. In addition to the design of large-scale infrastructure such as ports, airports, railways, roads, and urban developments led by the government, the use of next- generation energy and mobility is expected as a starting point for researchers and deep tech startups. In this session, we will call panelists who create new technologies in Japan and the Philippines, and discuss how infrastructure technology originating in the Philippines can solve the challenges unique to island countries.
<Panelists>
Ms. Maria Lourdes Dario, Director, Challenargy Philippines Inc.

With a Bachelors of Science degree from Kyushu University in Japan, Ms Dario has more than 20 years of experience in simultaneous programmes for Japanese government technical assistance, requiring coordination with regional government offices, provincial and municipal government, farmers' cooperatives, industry associations and the private sector. Ms. Dario concurrently serves as Director of several other companies engaged in the fields of construction, renewable energy development, international trade, where she is mainly responsible for technology assessments and its ensuing business development, and business development. Recognizing the innovative technology and its suitability in the Philippines of the world's first Magnus Vertical Axis Wind Turbine, Challenergy Philippines, Inc. was born from Ms Dario's strategic alliance with Challenergy Inc of Japan. She is also concurrently a Director of the Center for Emerging Technologies and Innovations of the Philippines, Inc. where she conducts joint research and feasibility studies in the fields of ENERGY EFFICIENCY AND RENEWABLE ENERGY PROJECT DEVELOPMENT (solar, biomass, waste to energy), renewable resources and technologies ASSESSMENT.

Ms. Samantha Monique Bautista, CEO and Co-founder, DWARMTechnologies Inc.

Sam is a graduate of BS Electronics Engineering at FEU Institute of Technology. Their drone startup started as a thesis in which they received a DOST research grant for the development of their prototype. After winning different competitions with their thesis, their team decided to push through to become a startup to provide help for disaster management of the Philippines with the use of drone technology. She started as a student to a technopreneur, and now she is the CEO and President of DWARMTechnologies Inc.. With their drone technology, a combination of AI and Swarm Technology is used to remotely look for possible survivors in the aftermath of a calamity to possibly alleviate the number of casualties. It also aims to venture out in other applications such as agriculture and logistics. Her interest in robotics, and AI served as one of her inspirations in creating their technology.

Mr. Dai Tsukada, Senior Managing Director, Autonomous Systems Control Laboratory Co., Ltd. (ACSL)

Mr. Dai Tsukada is Senior Managing Director at Autonomous Systems Control Laboratory (ACSL) Co. Ltd. which is a drone-manufacturing company that was created by researchers from Chiba University in Japan in 2012 and became the first listed drone company in December 2018. The market demand towards ACSL's proprietary technology to fly autonomously in GPS-denied environment using image processing (i.e.,Visual SLAM) exists in Inspection and Warehouse Management applications and has decided to expand business footprints in Southeast Asia region.
<Moderator>
Mr. Jacinto Asuncion Jr., Manager, DOST-UP Enterprise Center for Technoprenuership Business Development

After Receiving B.A from International Christian

Jacinto Asuncion Jr. or better known as "Jhaze Asuncion" in the industry is currently the Biz Dev Lead of DOST-UPSCALE Innovation Hub of the University of the Philippines - Diliman. An entrepreneur and a startup Co-Founder himself, a mentor in the ecosystem who help launch a number of ventures. He connects the industry challenges to the academe capabilities and government resources assistance. Prior to this startup world, his corporate experiences include international business development for interactive online education services and outsourcing. He also came from the Filipino Food Exports Industry with 45 countries worldwide market. A graduate of BSBA- Major in Exports Management of the De La Salle-College of Saint Benilde and Master's in Business Administration (MBA) in Polytechnic University of the Philippines. His research interests are Waste to Energy, R&D Commercialisation, Fintech-ICOs and Food Innovations.