AGRI session: "Local research to enhance the value of tropical agriculture resources"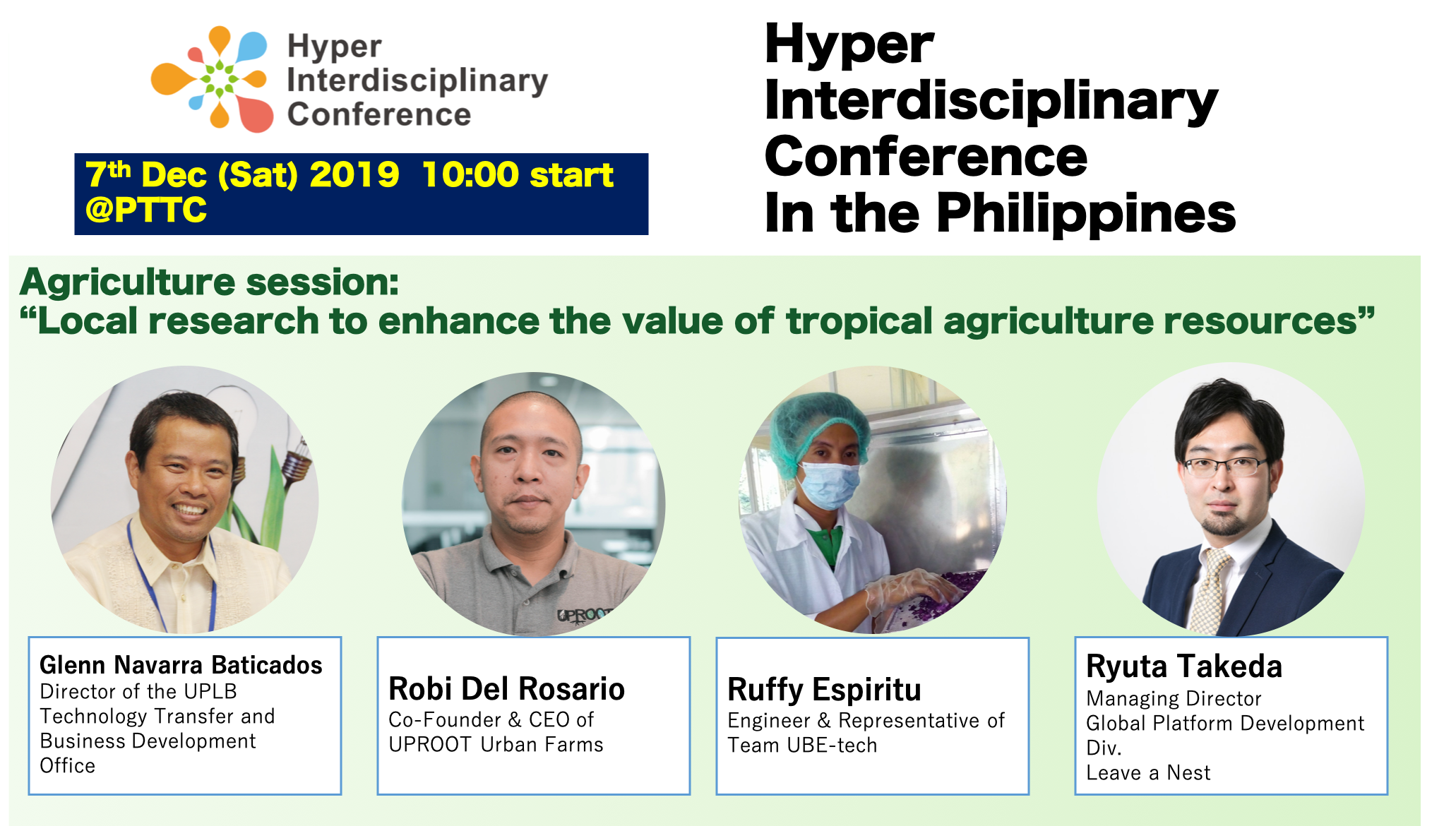 In HIC in the Philippines (Saturday 7th December, 2019), we will gather the front runners in education from the Philippines and Japan to conduct a panel discussion to discuss the future directions to take in the Philippines.
HYPER INTER-DISCIPLINARY CONFERENCE in the Philippines
■Theme Island Issues and its Potential
■Date & time December 7th, 2019、10:00am - 5:30pm
■Venue Philippine Trade Training Center, Pasay City
(cor, Sen. Gil J. Puyat Ave, Pasay, Kalakhang Maynila)
■Registration https://hiconf.lne.st/conference/philippines2019/
===1:00pm~ AGRI session: "Local research to enhance the value of tropical agriculture resources"===
The agriculture industry supports the foundation of people's lives. In the Philippines, in the areas of food security, infrastructure, improvement of production and storage, and food waste, there are still many hurdles to overcome. While the Ministry of Agriculture has been working on these issues, there are high expectations for private sectors and startups to respond to those issues. In this session, we will explore what can be done to improve the value of crops, and delve into local agri issues.
<Panelists>
Raffy Espiritu, Team UBE tech, engineer and representative

Engr. Raffy M. Espiritu is a practicing Agricultural and Biosystems Engineer since passing the Licensure Examination in 2001. He is currently affiliated at the Institute of Agricultural and Biosystems Engineering of the Don Mariano Marcos Memorial State University, Bacnotan, La Union, Philippines. He teaches undergraduate courses in Agricultural Waste Management,Engineering Laws and Ethics, Fundamentals of Agricultural Engineering, Engineering Economy, Undergraduate Thesis among others. He has completed several researches both institutionally and externally-funded projects from United States Agency for International Development (USAID-STRIDE), Philippine Department of Agriculture and Philippine Council for Agriculture and Fisheries.

Robi Del Rosario, Founder & Chief Executive Officer, UPROOT Urban Farms

Robi Del Rosario is a passionate and dedicated urban food grower. His desire is to create sustainable and thriving communities through UPROOT, for an enterprise that creates impact by harnessing the power of aquaponics, connecting communities to businesses through freshly grown food closer to home, improving workplace nutrition and creating an economy that benefits all. Through UPROOT's vegetable subscription we are able to make food more accessible and affordable to everyone. Our subscribers don't just buy our healthy produce, they become part of the food system, playing an integral role in the food value chain, providing sustainable livelihood to our communities.

Glenn Navarra Baticados, Director of the UPLB Technology Transfer and Business Development Office of the University of the Philippines Los Banos

Glenn Navarra Baticados was appointed as the Director of the UPLB Technology Transfer and Business Development Office of the University of the Philippines Los Banos in 2015 managing the University's Intellectual Properties, technology commercialization, technology business incubation, and the UPLB S&T Park. He is currently involved in 2 international projects on innovation under the EU erasmus+ program and the JAIF-ASEAN Business Incubation Network project. He is an Innovation Fellow of the Royal Academy of Engineering in the UK. And at the same time, he is a pioneer alumni of the Filipinnovation Entrepreneurship Corps (the US iCorps equivalent). He was awarded in 2018 as the Outstanding Extension Personnel of the University of the Philippines Los Banos for his excellent achievements and contribution in public service.
<Moderator>
Dr. Ryuta Takeda, General Manager, Global Platform Development Division, Leave a Nest Co., Ltd.

After Receiving B.A from International Christian University (Tokyo, Japan), he was trained as a molecular/cellular biologist in The Ohio State University (Columbus, OH, USA) where he earned his Ph.D. by studying 3D structure of a plant pathogen "viroid". In Leave a Nest, he managed Human Resource Development Div as a General Manager, and now he is the director of Global Platform Div for developing business in overseas. Especially, he is managing our seed acceleration program "TECH PLANTER" in 7 different countries, and also LVNS grant to support academic researchers all over the world.