Education session: "Installing technologies into schools to improve quality of Education"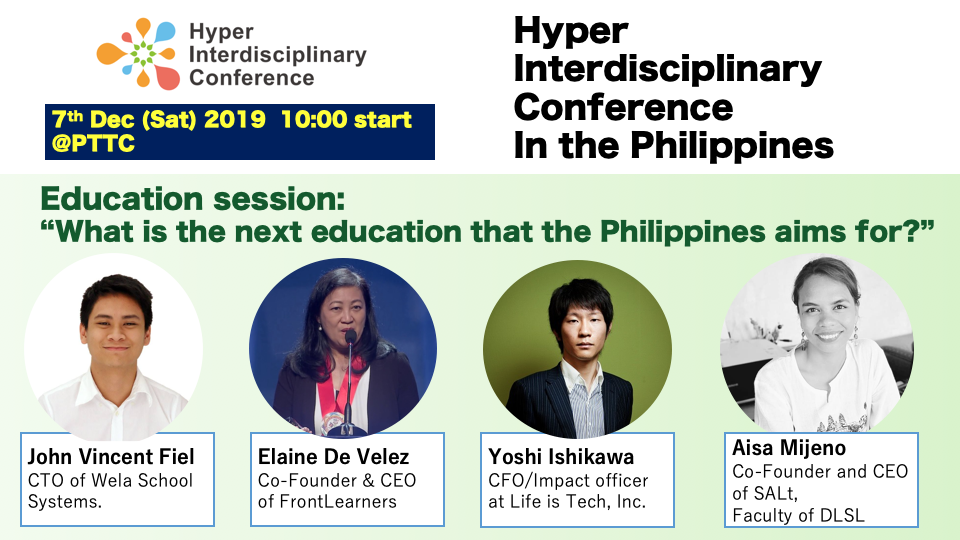 In HIC in the Philippines (Saturday 7th December, 2019), we will gather the front runners in education from the Philippines and Japan to conduct a panel discussion to discuss the future directions to take in the Philippines.
HYPER INTER-DISCIPLINARY CONFERENCE in the Philippines
■Theme Island Issues and its Potential
■Date & time December 7th, 2019、10:00am - 5:30pm
■Venue Philippine Trade Training Center, Pasay City
(cor, Sen. Gil J. Puyat Ave, Pasay, Kalakhang Maynila)
■Registration https://hiconf.lne.st/conference/philippines2019/
===1:00pm~ Education session: "Installing technologies into schools to improve quality of Education"===
Total population of 100 million people, average age is 24 years old. Like the neighboring ASEAN countries, the Philippine government has been allocating the highest budget to the education sector over the past three years to increase its national strength. However, there are lots of difficulties that need to be addressed with the highest priority. One of the issues is the disparity in the quality of education between the wealthy and the poor, which unfortunately has been growing year by year. 
To raise the next generation of leaders who will be creating the next phase of the country, education, especially in the field of science and technology, is undeniably a crucial matter. 
In this session, we will welcome Wela School Systems. Mr. John Vincent Fiel is responsible in introducing a system that improves the efficiency and quality of school education.
We will also welcome Ms. Elaine De Velez from FrontLearners, an education startup in the Philippines developing education materials for schools to be able to expand enrollment capacity.  
Lastly we have a special guest from Japan. Mr. Yoshi Ishikawa from Life is Tech who is an IT engineering education company in Japan talk about educational reforms that they can be working on.
<Panelists>
John Vincent Fiel, CTO of Wela Online Corp.

John is a graduate of Computer Science at Xavier University Ateneo de Cagayan. His interest in the startup industry brought him to establish his own game development startup after college, which lasted for 2 years. Now, he is the Co-Founder and Chief Technology Officer of Wela School System. Wela is one of the Pioneering DOST Funded Startups in the Philippines, Wela's research grant is about grades forecasting, with the use of A.I, the Wela platform can predict the future grades of a particular student and can give analysis on which areas does the student needs to improve. Wela is now running for 4 years and serving to 30+ schools in the Philippines.

Elaine De Velez, Co-Founder and CEO, FrontLearners, Inc.

Elaine de Velez was a scholar at the Philippine Science High School. She graduated with a BS Chemistry degree, cum laude and as a DOST scholar at the University of the Philippines, Los Banos. She obtained her Master in Business
Administration from the University of Adelaide where she awarded as the Most Outstanding Graduate.
Prior to being an edu-preneur, Elaine was a corporate executive from top multinational corporations like Procter and Gamble and Johnson & Johnson, where she held leadership roles globally and in Asia Pacific Region. She was formerly a Senior Director for Research & Development at Johnson & Johnson Asia Pacific, based in Singapore.

She has almost 20 years of experience in eLearning. She personally experienced how quality education had changed their life and opened up opportunities for her. So it is with the heart of an educator and the mind-set of social innovator that Elaine has prepared herself to trail blaze in the Philippine Education Technology arena.

Yoshi Ishikawa, CFO/Impact officer at Life is Tech, Inc.

Joined Life is Tech 2016 after working with a consulting firm, none-profit organization and research institute. Skilled in Research, Impact assessment, Business planning and Finance. Graduated from Nagoya University in 2009 with a Master's Degree in Environmental Studies.
<Moderator>
Aisa Mijeno  Co-Founder and CEO of SALt, a Faculty member of DLSL

Aisa is a faculty member of Engineering of De La Salle University - Lipa. Being a member of Greenpeace Philippines, she has traveled to many places promoting environmental campaigns. This has also brought her to the majestic mountains of northern Philippines where it all began. The product concept for SALt was inspired by the tribal community after living with them for weeks and learning how kerosene and moonlight have been the source of the lighting at night. Her interest varies from embedded systems to biomimicry to astronomy and electrochemistry.