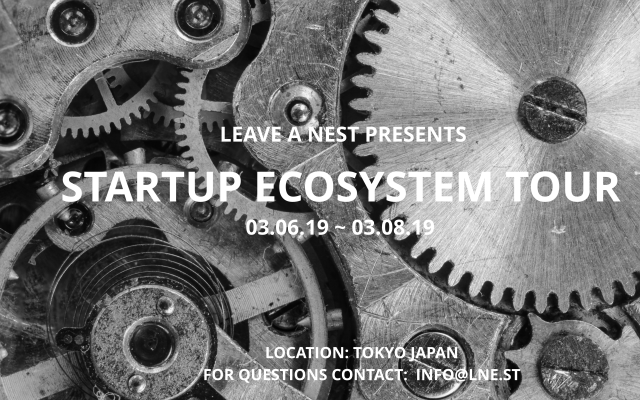 Japan attracts many tourists every year. However not only culture, food, and historical temples are the attractiveness of Japan. Japan's technology ecosystem may provide full of business opportunities too. This tour will lower the hurdle of entering to mysterious ecosystem in Japan.
If you are planning to visit Hyper-Interdisciplinary Conference
Tour is designed for
Government who is interested in learning about Japanese startup ecosystem ∙ Startups who is interested to explore market opportunity in Japan
Corporate representatives who are interested in open innovation ∙ University reserchers and incubators
Schedule

Why should you join?
In 3 days, you will get good birds eye view of deep tech ecosystem in Japan.
Chance to get directly connected to Japanese companies, startups and researchers with support from Leave a Nest.
Leave a Nest will be there to support you to build the network you are looking for.
Date
6th~8th March 2019
Program Fee
300,000 JPY / 4,000 SGD / 10,000 MYR / 3,000 USD / 2,000 GBP L
*excluding airfare and accommodation
Website
For registration
https://goo.gl/forms/9zNpY4SpLS7Vf YJv2
Inquiry:
Leave a Nest Co., Ltd.,
EMAIL [email protected]
TEL +81(o)-3-5227-4198